15 Years Ago, George Lucas Redefined Star Wars Canon With His Final Jedi Creation
The final major Star Wars character created by George Lucas is about to become a star.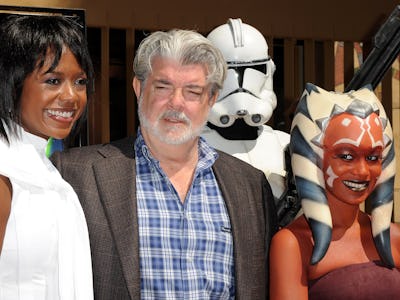 ROBYN BECK/AFP/Getty Images
George Lucas wasn't finished telling stories in the Star Wars universe after Revenge of the Sith. While mainstream moviegoers might see the decade between Sith in 2005 and The Force Awakens in 2015 as a dry spell for the Force, the truth is that many hours of canonical Star Wars were produced via The Clone Wars. And what made The Clone Wars so interesting, and initially controversial, is that George Lucas completely retconned not just the classic trilogy, but his just-completed prequel trilogy too.
The last Jedi character co-created by George Lucas was Anakin Skywalker's hitherto unseen Padawan, Ahsoka Tano. To this day, Ahsoka's creation in 2008 remains the most enduring George Lucas retcon of them all. As the former Jedi makes her big splash in the Disney+ series that carries her name, it's hard to remember that her existence was once a shock to both the Star Wars fandom and the timeline.
Enter Ahsoka Tano
‌Although Ahsoka appears at the start of The Clone Wars in 2008, that animated movie and the ensuing TV series occur before Revenge of the Sith. So because she's not mentioned in Revenge, how could Anakin and Obi-Wan have mentored such an important person if no one knew about her by the time the Republic fell? To Lucas' credit, he approached these perceived continuity errors with his usual aplomb. To Lucas, the films simply weren't about her.
"The features are Anakin Skywalker's story," Lucas said, as quoted in the oral history book Secrets of the Force. "In the animate series [The Clone Wars], Anakin is simply a normal person."
For the first five seasons of The Clone Wars, the only character who gets to grow and change, at least in a way that wasn't predetermined by canon, was Ahsoka, voiced by Ashley Eckstein. Co-created by Lucas and Dave Filoni, the character garnered a decidedly mixed reaction from critics when The Clone Wars film hit theaters on August 15, 2008. As Filoni recalled in Secrets of the Force, he and Lucas thought, "This is either going to work, or people are going to hate it... there's not much in-between when you give Anakin a Padawan."
In 2008 and 2009, some toxic fans were hard on Eckstein. Recently, the actress discussed being hurt by some reactions:
"When it came out, so many people hated Ahsoka. First, I sobbed into my cheesecake. But then I took a day to have a pity party. Then, I was like, no – this character is amazing. And everyone else is going to see what I see if they just give her time. And so, I asked fans for their patience. I said look, no character is perfect in the beginning, and if they were, then they'd be really boring. So please go on this journey with her."
So, how did Ahsoka go from being a hated character to one of the most important in the Star Wars fandom and canon? The short answer is that George Lucas was right.
The Revenge of Ahsoka
Dave Filoni has credited George Lucas' strategy for ensuring Ahsoka's longevity. Lucas knew that as time went on, any fan complaints about Ahsoka's existence would be drowned out by a new generation of fans who grew up with the character. "George always had a great mind for the bigger picture," Filoni said.
On The Daily Show in 2010, George Lucas doubled down on his generational vision for Ahsoka and The Clone Wars. "We have now three generations of Star Wars fans," he told Jon Stewart. "And some of these kids have never seen any of the films. All they know is The Clone Wars."
Today, it's clear George Lucas was right. Not only is Ahsoka more popular than ever, but her impact on canon hasn't disrupted Star Wars. Instead, she's united disparate elements of the timeline. Not only is Ahsoka the missing piece between the prequels, the classic trilogy, and the Mandalorian universe, but she's poised to help reboot the Expanded Universe continuity from the '90s.
For a Jedi that some fans labeled "bratty" in 2008, Ahsoka Tano has endured to become one of the most important characters in Star Wars history. Dave Filoni deserves the lion's share of the credit for believing in the character and shepherding her to this point. But perhaps it should come as no surprise that the person who foresaw a future in which Ahsoka would ascend was George Lucas himself.
Ahsoka airs on Disney+ starting August 23, 2023.