Edgar Wright's Best Movie Ever is a Perfect Genre Mash-Up
This comedy mainstay managed to be a mystery, an action movie, and a buddy cop movie all at once.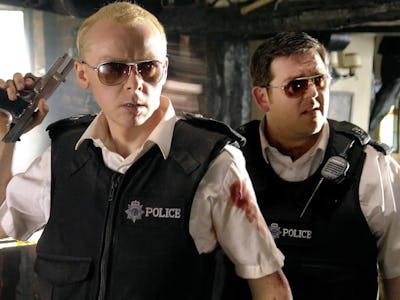 Universal Pictures
The phrase "instant classic" is bandied about often, but the criteria seem to be incredibly nebulous. An instant classic is something so groundbreaking, so masterfully pulled off, that it's immediately clear it will age well and cement itself in history. These movies are rare in all genres, but especially in comedy, which is an incredibly timely medium that often ages like milk.
But every now and then there's a comedy that has the X factor — Bringing Up Baby, Airplane!, The Big Lebowski — and this 2007 movie that managed to not only be a pitch-perfect comedy but also a handful of other genres at the same time. Despite all odds, the plates never stop spinning. Here's why you should watch it now its streaming for free on Freevee.
Hot Fuzz wasn't a surprise hit — Edgar Wright had worked with Simon Pegg and Nick Frost previously on Shaun of the Dead. But while that movie was simply a zombie comedy infused with Wright's signature stylized direction, Hot Fuzz turned up the ambition with a story that always took an unpredictable direction.
Hot Fuzz follows Sergeant Nicholas Angel (Simon Pegg), a rules-loving Scotland Yard police officer relocated to a small town in Gloucestershire. There, he comes to terms with the sleepy crime rate — and police officers — of Sandford, but slowly uncovers a dark murder mystery that reveals a vast conspiracy.
Hot Fuzz is a different movie every 20 minutes or so. First, it's a fish-out-of-water movie, then a murder mystery, then a small-town whodunit, then a conspiracy thriller, then a no-holds-barred buddy cop action movie that matches the gore factor of Shaun of the Dead, even if the gore is set in a model village.
Edgar Wright's unique style of visual- and musical-focused direction shines in Hot Fuzz. Sergeant Angel clearly sees himself as an action hero, and Wright directs him as such: montages of him traveling by train and filling out paperwork are treated with the same gravity as the training montage from Rocky. On the other hand, the town sees itself as the British countryside idyll, so we'll also see scenes set to The Kinks' "Village Green Preservation Society," a song meant to point out the obsession with preserving old-fashioned British values.
Thanks to the success of Shaun of the Dead and Edgar Wright's existing ties in the British comedy scene through his previous series Spaced, Hot Fuzz boasts a star-studded cast unlike any other, with Jim Broadbent, Paddy Considine, Bill Nighy, Martin Freeman, Olivia Colman, Rory McCann, even Cate Blanchett as Janine, Angel's forensics expert ex we only see in a face mask and hazmat suit at a crime scene.
Hot Fuzz immediately won over critics, even those who were mixed on Shaun of the Dead, and became the second part of the "Cornetto Trilogy," soon to be followed by The World's End. Edgar Wright would go on to explore other genres in movies like Scott Pilgrim Vs. The World, Baby Driver, and Last Night in Soho, and Simon Pegg would go on to find steady work in both the Star Trek and Mission Impossible franchises. But for one glorious moment, they were able to prove their love for the entire spectrum of genre movies while creating a great one themselves.
Hot Fuzz is now streaming on Amazon Freevee.