Inverse 2019 holiday gift guide for gaming geeks and Baby Yoda freaks
Need to spread holiday cheer for a hard-to-please Inverse reader? We got you covered.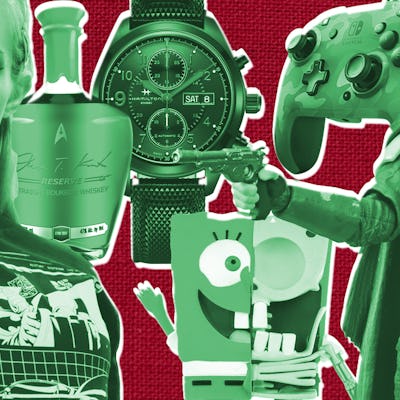 Photo by Joanna Kosinska on Unsplash
It's the most wonderful time of year — again! The holidays are upon us, and no matter what you celebrate, we can all agree on one thing: We all want Baby Yoda merchandise. And other things, too. But give us Baby Yoda, or else.
Once more for 2019, Inverse's entertainment writers have assembled to pick out some of the best gifts for the year. Ranging in price from affordable, to splurge-worthy, to hella rich, all of these gifts are perfect for the binge-watching, fantasy and sci-fi-loving, marathon-gaming geek in your life. Whether they're fans of Star Wars, Star Trek, or gamers in need of gear, there's something for everyone.
Below, we've got Batman hoodies and lightsabers galore; SpongeBob collectibles and Nintendo controllers aplenty; and grown-up watches and nerdy home accessories alike.
Without further adieu, get your credit card ready, because it's time to buy stuff.
Star Wars Scream Saber
Price: $19.99
The perfect gift for a kid you don't live with, or your Secret Santa recipient at work, this goofy variation of the iconic Star Wars weapon lets you choose from a variety of familiar sounds of the pew-pew and fwooom variety. But the best thing about it is you can record your own sounds. That's right: the dawn of the farting lightsaber is finally upon us. So much for a more civilized age.
Where to get it: Amazon
James T. Kirk Straight Bourbon Whiskey
Price: $59.99
Ah, Star Trek booze — sure to bring a smile to the face of any space-loving nerd this holiday season. You'll chuckle over the United Federation of Planets sticker on the neck, but you'll find yourself coming back for seconds at the end of a long workday. The Inverse crew cracked this open before the long Thanksgiving weekend and came away pleasantly surprised, whether drinking it neat or with soda water. Sure, it's not the most complex whiskey we've ever tasted, but it's smooth and easy. Just like its namesake.
Where to get it: Silver Screen Bottling
Nintendo Switch Lite
Price: $199.99
Look, I get it. Nobody needs a Switch Lite. If you don't already own a Switch, you'd be a doggone fool to buy the version that doesn't connect to a TV. I could never justify buying it, but I desperately want one. I imagine I'm far from the only one who feels this way, which makes it an awesome gift for the grown-up gamer in your life. You know the kind of person who got Sword and Shield, Jedi Fallen Order, and Death Stranding the week they came out? Get them a Switch Lite. No one's gonna be sorry to unwrap a sunny yellow bundle of Nintendo delight.
Where to get it: Amazon
The Mandalorian Black Series
Price: $14.99-$29.99; normally priced at $20 each at retail, prices fluctuate online based on availability and popularity.
Another holiday season, another chance to collect hordes of new Star Wars figures. This is the Way.
But 2019 is a special year: With the release of Jedi Fallen Order, the Disney+ hit The Mandalorian, and the movie Star Wars: The Rise of Skywalker on December 20, fans really have their pick at new faves to decorate their desks. While any of Hasbro's detailed six-inch Black Series figures will do, may we suggest figures from The Mandalorian? At $20 a pop, usually, you can't go wrong having The Mandalorian, Cara Dune, or even the badass "Heavy Infantry" protect your workspace. I have spoken.
Where to get it: Amazon
Achievement Hunter x Batman streetwear
Price: $29.95-$89.95
It's Batman's 80th anniversary, and a new player has joined the party. Achievement Hunter, the gaming subdivision of Red Vs. Blue and RWBY creators Rooster Teeth, produced a stylish collab with DC Comics: "ACHIEVE | BATMAN," a line of streetwear that honors eight decades of the Dark Knight.
T-shirts, hats, hoodies, and more, all with the Achievement Hunter logo beside Batman's symbol, art, and Batmobile blueprints. These are not only the coolest Batman gear to rock at Comic-Con, they're also some of the comfiest. Seriously, these hoodies are cozier than being tucked in by Alfred.
Where to get it: Rooster Teeth
Hamilton Khaki Field Auto Chrono Full Black
Price: $1,795
To mark the second season of Tom Clancy's Jack Ryan on Amazon Prime, American watchmaker Hamilton gave us a chance to try the "Full Black" Khaki Field Automatic, a military-inspired chronograph worn by John Krasinski in the show.
At a large 42 millimeters in diameter, this durable yet sleek piece is super legible, and super pretty to look at. So much so that even in 2019, I still found myself checking the time with this piece than digging for my phone.
With an accurate chronograph function (with minute and hour subdials), day and date complications, and a comfortable black rubber trap, this watch is more than just a sexy accessory, it's a real tool for when you're out and about, whether down the street or halfway around the world. The H-21 automatic movement that powers the watch has a 60-hour power reserve, which means a day of wear, you can give your wrist a break for the weekend and still have a running clock by Monday morning. For those who've fallen into a Jack Ryan binge, Hamilton has the only collectible you'll need.
Where to get it: Hamilton
PDP Ultra Slim Charging System
Price: $29.99
This thing saved my marriage — fine, not actually, but this video game console peripheral device erased a source of constant frustration in our small apartment over keeping our PlayStation 4 controllers charged.
This is one of those perfect gadgets that you don't know you desperately need until you get it. My wife and I have a four-port charging block set up near our entertainment center, and whenever I needed to charge a PlayStation 4 controller, I'd have to pull out my 6-foot micro USB cable to do it. The controller would be sitting somewhere random while the wire was just dangling in a lazy loop everywhere. We're tidy people, so it was always a bit frustrating.
With the slim charging system, all you need to do is plug a small adaptor into the back of a regular-sized PS4 controller, and then it can magnetically connect to a small charging strip. The rear strip has an adhesive strip so that you can faster it in place on some surface. They magnetically seal to the dock, so everything about having these is easy and vastly improves any living room that has a PlayStation 4 or Xbox One.
Where to get it: PDP.com
Faceoff Deluxe+ Audio Wired Controller
Price: $24.99
The $69.99 Nintendo Switch Pro controller price is not so nice when you consider PDP's Faceoff Deluxe+ Audio Wired Controller, an officially licensed alternative that looks even cooler for less than half the price.
It's a must-buy for anyone who plays Fortnite on the Switch on account of its key feature: the 3.5mm audio jack that supports in-game audio for all games and USB-chat for compatible titles. You can simply plug in your standard Apple headphones and have full audio chat features. The controller even has some rear paddle buttons like SCUF controllers that allow you to custom map some controls.
The chat won't work for any first-party Nintendo games, so the only ones that it will function on are games like Fortnite, Paladins, Warframe, and Overwatch.
Where to get it: PDP.com
SCUF Vantage II
Price: $169.95 + more for customization options
SCUF offers the prestige custom video game controller experience at top dollar, but what you get is worth the price tag. Released in October, the Vantage II is a worthy sequel to the original Vantage, which already pushed the boundaries of what I thought controllers were capable of. These controllers have six more buttons on the side and back that can be reprogrammed to customize your gaming experience, allowing you to jump and shoot simultaneously in many first-person shooter games where it would be impossible otherwise.
Not only can you remap these buttons, but you can swap out the faceplate for a different design, customize the height, texture, and concavity of the individual thumbsticks. The back of the controller also has a textured grip that helps you avoid slipping around. It's also just a touch smaller than the first Vantage, making it that much more comfortable to hold onto for long bouts of gaming. The PC version comes with an application that allows you to create custom loadouts and upload them directly to the controller so you can swap them around depending on the game you're playing.
Where to get it: SCUF Gaming
Baby Yoda Sweaters
Price: $24.95-$26.95
Disney dropped the ball on making good Baby Yoda merch, but that doesn't mean you can't celebrate Life Day with your friends and family in style. Ignore the terrible official merch and try one of the many third-party online stores where entrepreneurial Star Wars fans are pumping out everything from Baby Yoda Christmas sweaters to Baby Yoda high top sneakers. Personally, I'm a big fan of this T-shirt with a design that makes it look like Baby Yoda is strapped to your chest; it's probably the closest you'll come to feeling like a Mandalorian this holiday season.
Where to get it: Amazon
NES Cartridge-shaped Cutting Board
Price: $45 and up (depending on size)
If you're looking for a holiday gift that's equal parts geeky and adult, this NES Cartridge cutting board is a perfect option. Handcrafted with your choice of wood (maple, walnut, cherry, or mahogany), this Nintendo-themed kitchen accessory is the perfect gift for any video game fan who also enjoys cooking — or just wants a cool piece to display in their home. As an extra bonus, you can request a custom engraving with a message for the recipient or a picture of their favorite retro game.
Where to get it: Etsy
SpongeBob SquarePants Dissected Vinyl Figure
Price: $155
Celebrate 20 years of Spongebob Squarepants with this freaky 10-inch tall vinyl figure of everyone's favorite absorbent and yellow and porous cartoon character. Created by artist Jason Freeny, this beautifully grotesque collectible offers a look inside Spongebob's body, including his skeleton and brain. It also glows in the dark, because why not, I guess.
Where to get it: Mondo