'RWBY' Volume 7 isn't the end, but Rooster Teeth already knows the ending 
"We definitely have an ending in mind." Here's what's in store with 'RWBY' Volume 7 and its future.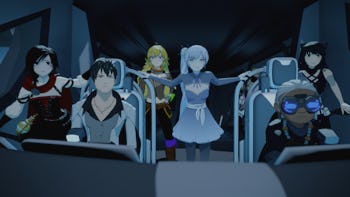 Rooster Teeth
As we head into Volume 7, there are still many stories to tell in the world of RWBY. But Austin studio Rooster Teeth is prepared to end the American anime saga when it's time.
At New York Comic Con, the cast and creative team behind RWBY descended on the Javits Center to tease what awaits in Volume 7, premiering November 2 on Rooster Teeth's on-demand service, FIRST.
In an interview with Inverse, RWBY director Kerry Shawcross and writer Miles Luna teased the emotional "high highs, low lows" of Volume 7. The series continues the adventures of Ruby, Weiss, Blake, and Yang, a clique of teenaged monster hunters who exist in the fictional world of Remnant.
"We're picking up right where we left off," Shawcross tells Inverse. "We're not even saying that as a hokey marketing phrase. It is happening, quite literally, after Volume 6."
The co-creators describe Volume 7 as a season of "uncertainty" that will see the main heroes challenged by self-doubt as they visit the chilly kingdom of Atlas. "There's a lot of, 'What should we do? Who should we trust? Are we doing the right thing?' There's people they thought they could trust but maybe they shouldn't. And people they didn't think they could trust but totally can."
The creatives also revealed they already have an ending for RWBY sketched out, but it just won't happen until they feel it's time.
"From the get-go, we had a finite end to this story," Shawcross says. "We definitely have an ending in mind." 
While the creators know how RWBY will end, they don't know when. "We keep things loose, which is why we don't say a specific season. But there's so much to do in this universe. There's plenty of seasons to go around."
Since its premiere in 2013, RWBY has been one of the most popular shows from Rooster Teeth, the Austin studio that shot to fame with the sci-fi comedy Red Vs. Blue. Created by the late Monty Oum, RWBY is one of Rooster Teeth's flagship franchises with spin-off shows, video games, action figures, a fashion line, and manga and YA novels. In 2019, DC Comics began publishing RWBY comics.
Volume 7 will see Team RWBY visit Atlas, a cooler climate the writers describe as hostile and "aggressive." It is also the home of Weiss, one of the main characters whose family were wealthy aristocrats throughout the kingdom.
"Our characters are expecting moments of relief [after Volume 6], but instead are met with something ominous," Miles Luna says. "A very aggressive Atlas that is not maybe the kingdom they remember leaving behind. Particularly Weiss. It's gonna be fun as we enter into this kingdom, it'll be new for our fans to see what Atlas and Mantle are like as well as ask themselves what's been going on, what's the new status quo."
He adds, "The whole journey since the Battle of Heaven has been to get the Lamp of Knowledge to Atlas. Atlas, theoretically, still has an unopened Maiden vault, it has a Maiden capable of opening the vault, and it has the strongest world headed by a friend of theirs, General James Ironwood."
"He's gone through a lot too," Shawcross says of the return of General Ironwood. "It'll be interesting to see them all together."
The new setting also required a wardrobe change. At RTX 2019, the producers revealed concept art for the heroes' new costumes in chilly Atlas. At New York Comic Con, fans finally got to see the new costumes in action.
"I'm really glad the new outfits are getting out there," Shawcross says. "People were wondering how they were gonna translate to 3D. I've been seeing those outfits in 3D for six months now, so I'm used to them. But it takes people time."
Lindsay Jones, who voices Ruby Rose, says the costumes were first revealed to her during a recording session for Season 7. "Being a video game nerd, I love the Final Fantasy aspect of it all," she says. "The exaggerated heavy accessories — it's very cosplay oriented."
New costumes, old friends, uneasy choices to make — it's all very RWBY, a show that continues to astonish its engaged fanbase with impeccable animation and feel-good heroism. So there's no reason to end RWBY just yet.
"We're very much in the camp of, if people are still interested, we're always gonna figure out to make something," Shawcross says. "Maybe at some point this story will end, and we'll have another story in the universe. Which I think people are excited by. And we are too, creatively."
RWBY Volume 7 premieres November 2.