How 'Hobbs & Shaw' Super Suited Idris Elba to Become "Black Superman"
Sarah Evelyn, costume designer of 'Hobbs & Shaw,' talks about the superhero and motocross influences of the franchise's first "super" villain.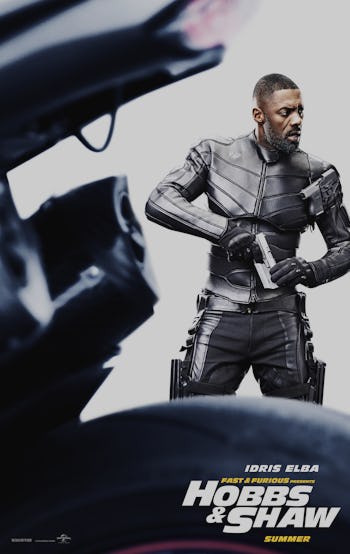 Universal Pictures
After almost twenty years and nine movies, the Fast & Furious is going superhero. Kind of. In Fast & Furious Presents: Hobbs & Shaw, a bio-enhanced "super" villain, Brixton (played by Idris Elba) is tasked with taking down two extremely capable targets, Luke Hobbs (Dwayne Johnson) and Deckard Shaw (Jason Statham). And like all "super" people, Brixton comes dressed to kill in a sleek leather suit that makes him bulletproof and impervious to danger.
Behind the scenes, it was the job of Sarah Evelyn, a reality TV costume designer who makes the leap to theatrical blockbusters in Hobbs & Shaw, to outfit Idris Elba into a villain who calls himself the "Black Superman."
"Brixton was really interesting [to costume], it was definitely a journey," Evelyn tells Inverse in a phone interview. "When I first got involved with the project, we talked, How do you make this superhero? Do you want to go down the super-suit road? That's a real choice."
Already seen Hobbes and Shaw? Read our spoiler-filled recaps of the ending and post-credits scenes.
It is a real choice: Originally a humble movie about crime and street racing, the Fast & Furious franchise has tremendously increased its stakes with each movie to include plots about preventing global catastrophe and terrorism. With Hobbs & Shaw, the series evolves to the same level of today's Marvel and DC superhero epics, full of characters who can do extraordinary things while wearing enviable Halloween costumes.
But in designing Hobbs & Shaw, the filmmakers carefully considered how far into "superhero" territory they were willing to go. "Because there are a lot of super suits out there," Evelyn says. "What is my super suit going to look like in this context and language of super suits?
Evelyn and her team asked a ton of questions about modern superheroes and just what kind of story Hobbs & Shaw was telling with Brixton. "We did some R&D around the super suit idea: How super? How much of a superhero necessarily is he? How big are his powers? Do we want to be visually telling a superhero story in the lexicon that exists right now?"
Superheroes as a concept came in "ebbs and flows," and Evelyn ultimately found inspiration in the world of motocross. "The motocross industry is very forward-thinking with technical fabrics and patterns and how to create safety in their garments while being lightweight," she says. "Motocross is a place where a lot is happening. You can see three years out what they're thinking but it's always this tight-fitting top, a separate bottom, some padding at the knees and elbows and hips, and some materials where if you crash your skin is protected."
But as a full circle, the idea of motocross only came through in collaboration with leather makers Whitaker Malem, a fashion house that frequently outfits Hollywood. Their work has been seen in films like Mortal Kombat (1995), Speed Racer (2008), and superhero films like Captain America: The First Avenger (2011), Avengers: Age of Ultron (2015), Wonder Woman (2017), and Aquaman (2018).
"We came upon Whitaker Malem, this artist duo that has been very involved with the super suit industry since Captain America. They had these leather workers who came up with this incredible technique of making this molded leather they can sculpt on a body so a jacket can fit really beautifully."
Adds Evelyn, "You have this awesome, luxe, deep rich leather sculpted effect. I saw that and was like, That's it. That informed what we were doing as a super motor suit which I felt made sense story-wise. It's totally believable as some sort of modernized, motocross garment."
But as a "Black Superman," does Brixton even need a costume? It takes a good costume designer to think these potentially damaging holes to a superhero movie through. And Evelyn has an answer.
"Clothing matters. Clothing says a lot about who we are even when we're comfortable," she says. "Technically, since he is black Superman, he can be fixed, but I still think he needs [a suit] because to be fixed slows him down. He needs protection."
Fast & Furious Presents: Hobbs & Shaw is in theaters now.