'Black Widow' Writer Jac Schaeffer Isn't Scared to Make the Fanboys Mad
"I'm not interested in the loud, sour-grapes voices."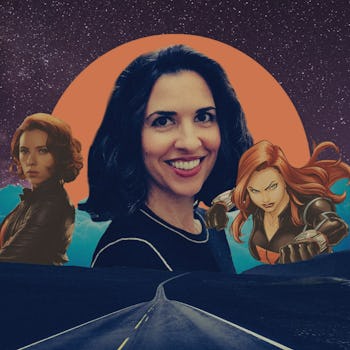 Natasha Chomko, aka POST-WOOK, for Inverse
In May 2010, the release of charming and offbeat sci-fi rom-com TiMER fulfilled Jac Schaeffer's dreams of becoming a feature film director.
Little did Schaeffer know then that the movie that topped the US box office that same weekend — Iron Man 2 — featured the big-screen debut of a character whose solo movie she would be writing eight years later, for a franchise that would be making waves in the pop culture landscape like nothing before it.
Schaeffer has a bold vision for superhero movies of the coming decade: more sympathetic villains, less glamorization of weaponry, and stronger representation of marginalized voices. To comic book movie fans who prefer ultra-violent shoot-outs, 100 percent-evil villains, and casts that look like they did a decade or two ago, Schaeffer says, "I'm not interested in adhering to comic canon that is discriminatory in any way or that violates my values system."
"I'm not interested in the loud, sour-grapes voices.
Even if her stance makes Black Widow a target for sabotage on sites like Rotten Tomatoes à la the response to Captain Marvel, don't expect Schaeffer to budge from her passion for positive change by even an inch. "When people react with hate, it saddens me. I think it's a shame," she says, "But that's not where I want to put my energy. I'm not interested in the loud, sour-grapes voices."
Marvel Studios hired Schaeffer to write the script for Black Widow, the long-awaited film about Natasha Romanoff (Scarlett Johansson), the USSR-born super spy dreamed up by the late Stan Lee in the 1960s. The film is set for a May 1, 2020 release.
Schaeffer's work for Marvel also includes contributing writing to 2019's Captain Marvel and showrunning the Disney+ series WandaVision, scheduled for a spring 2021 release.
"I wasn't a huge superhero movie fan before starting to work [at Marvel], but now that I'm doing it, there's just so much opportunity to make big, positive statements," Schaeffer says. "Especially something like Captain Marvel and Black Widow, to have these female-centered stories — I just can't not be involved in that."
Black Widow got its official unveiling this month in front of a crowd of nearly 5,000 exuberant fans in San Diego Comic-Con's legendary Hall H at the San Diego Convention Center. Marvel Studios President Kevin Feige announced the movie as part of the Marvel Cinematic Universe's "Phase Four."
Finally able to speak (somewhat) openly about Black Widow, Schaeffer shared her "surreal" Hall H experience and what it was like scripting Natasha Romanoff's solo story a few days after Comic-Con. She'd previously made time in her jam-packed schedule to speak with Inverse earlier this month — she fit in the interview during her commute, taking that phone call while on the Ventura Freeway, north of Los Angeles.
See also: 'Black Widow' Writer Jac Schaeffer Reacts to a "Surreal" First Comic-Con
"I wanted to be like one of these visionaries."
By age 14, Schaeffer knew she wanted to direct films. Her parents wanted her to get a liberal arts education, so she majored in English at Princeton University. In a return to Southern California (she grew up in Agoura Hills, just outside of Los Angeles), she earned her master's degree at USC's film school.
As a teenager, Schaeffer says, "I was reading Entertainment Weekly obsessively," particularly the magazine's coverage of the Sundance Film Festival each year, which exposed her to the filmmakers whom she came to look up to.
"I wanted to be like [Quentin] Tarantino and [Robert] Rodriguez. Allison Anders was one of the few women that was visible. And I was like, 'I wanna be like Allison Anders! I wanna be like Lisa Cholodenko!'" she sys, "I wanted to be like one of these visionaries."
When the much-buzzed-about Sundance hit The Blair Witch Project got a limited release in July 1999, Schaeffer watched it at the Angelika Film Center in New York. "Everybody in line didn't know if it was real or not," she says of seeing the found-footage horror film that was promoted as if it were a documentary.
"It was that era — my teens through my early 20s — when there wasn't social media and you had to hunt down information and hunt down movies. It was that sort of magic and how it was all rarified and special," Schaeffer recalls. "I was like, 'I want in on that. How do I get in on that?'"
That kind of movie-going experience — before Twitter, before you could read all about a film a year before its release — may seem like it's worlds away, but Schaeffer points out that working for Marvel, she can relate in one way to the Blair Witch Project filmmakers: "the shroud of secrecy!"
" I was like, 'I want in on that. How do I get in on that?'
"I was very disappointed in the rom-com genre at the time."
With Sundance auteurs as her inspiration, Schaeffer wrote, directed, and co-produced her first feature, TiMER. An R-rated rom-com — it holds a respectable 64 percent Fresh rating on Rotten Tomatoes — that's both sweet and edgy, full of interactions that feel raw and real, even amid the high-concept sci-fi elements, TiMER premiered at the Tribeca Film Festival in 2009 and had a limited US release a year later. The film depicts a world in which a wrist implant, with iPhone-like ubiquity, counts down to the moment its user will meet his or her soulmate.
Schaeffer gave the film a bittersweet final couple scenes, bucking the typical chick-flick-happy ending.
" I feel much more optimistic about the state of the industry.
"I was very disappointed in the rom-com genre at the time," she says. "After TiMER, it seemed to die out entirely. And now it's having this incredible resurgence on Netflix and other streaming platforms, which I love and applaud. I also feel like they've come back in a way that is far more authentic and gratifying than where it sort of died on the vine a few years ago."
Schaeffer wrote TiMER so she would have a project to direct, but after its release, she received more attention from the film industry for her script than for her direction.
A quick glance at Schaeffer's IMDb page suggests a decade-long gap between TiMER and this year's The Hustle, but "I was steadily working," Schaeffer says. "I was doing a lot of open assignments and re-write jobs. Things that just didn't see the light of day. I was in the Writers Guild, I was learning a lot, building a lot of relationships."
When Schaeffer's first child was born a few years after TiMER opened, "at that time, it felt impossible and unrealistic to be a mom to young children and also direct. So I sort of set that aside at the time," she recalls. "Now I feel much more optimistic about the state of the industry, and that increasingly, it's becoming more possible and more plausible for women who have young children to also make a career as a director."
David Harbour, Florence Pugh, O-T Fagbenle, Rachel Weisz, and Scarlett Johansson during the Black Widow presentation at San Diego Comic-Con in July 2019.
"It's highly unusual. It's kind of ridiculous."
Now a part of the Marvel machine, and having recently released Anne Hathaway and Rebel Wilson comedy The Hustle — a remake of Dirty Rotten Scoundrels that credits Schaeffer alongside three other screenwriters — her career doesn't look much like the auteur's path she'd initially envisioned while reading issues of Entertainment Weekly as a teen.
One might think these current projects afford her less creative autonomy than an indie project where she's at the helm, but she says within the parameters of the carefully crafted MCU mythology, "there is kind of a delicious amount of freedom. In the indie space, you have all this control, but you're pulling a boulder up a mountain for a year or two years, whereas somewhere like Marvel, there's all this enormous infrastructure, and so there's no friction on feasibility — the limit is your imagination. That kind of freedom is almost euphoric."
Early in her career, when she worked as a TV executive producer's assistant, she concluded that the team culture of a writers' room wasn't for her. Now she's back in a writers' room for WandaVision, having taken the atypical path of jumping to the top of the ladder as the series showrunner, without previous TV writing credits. That leap speaks to the current synergy between the feature film and television realms of Marvel Studios, but Schaeffer acknowledges, "It's highly unusual. It's kind of ridiculous."
"Stories are better the more perspectives you have.
It turns out that showrunning is "the most satisfying role that I've had. It combines almost everything," Schaeffer says. "While I think I will get back to directing at some point, right now running a show — I feel like the luckiest person in the world. It's a really phenomenal gig."
Of the eight writers staffed on WandaVision, four of them are women. When accounting for the executives, assistants, and Schaeffer herself, the show's writers' room is majority female.
Hiring a writers' room of that makeup was "incredibly intentional, and it was very much supported by Marvel," she says. "I felt incredibly strongly that we needed women and people of color and people of all backgrounds and perspectives in the room. I believe — I think it is fact — that stories are better the more perspectives you have."
Though Marvel projects will keep Schaeffer occupied for a while, she doesn't rule out returning to the world of TiMER with her newfound passion for showrunning. The movie focuses on main character Oona (played by Emma Caulfield), whose TiMER is blank, meaning her "one" hasn't had a TiMER implanted. But with many supporting characters having their own compelling TiMER-related problems, it strikes as a concept rich enough to supply story to several seasons of television.
"I tried to develop it years ago in more a network space," Schaeffer says. "I haven't thought about it in a long time. But I should, now that TV's sort of broken open in this way."
Black Widow and Beyond
Scarlett Johansson has played Black Widow in eight Marvel films released thus far, and Black Widow will be the first installment of Phase 4, when it opens on May 1, 2020. It's the beginning of a new era for the MCU, after Avengers: Endgame delivered an epic and emotional conclusion to a decade-long saga.
Though Schaeffer had an insider's knowledge of the MCU, her experience watching Avengers: Endgame was like a lot of fans', at least in one way: "I cried like a baby," she said. "I was very moved by it."
As for her experience watching Natasha's death, the Black Widow writer said, "It was a strange feeling. I have some proprietary feelings because if you are a writer who gets very emotionally invested in your work — which I think is most writers — the characters feel very real to you. So seeing her death in a movie that I didn't have anything to do with — it was a little bit similar to seeing an ex-boyfriend with another partner. There's a weird sort of removal that feels wrong and right at the same time. But her arc in the movie is wonderful."
"It's very rare to see something on screen how you pictured it in your head.
Directed by Australian filmmaker Cate Shortland, Black Widow takes place, at least in part, shortly after the events of 2016's Captain America: Civil War. After the Avengers' clash at Leipzig/Halle airport, Natasha is "very much on her own and over the events of the Black Widow movie; she has to reckon with some of the red in her ledger," Schaeffer explains of the Russian operative-turned-S.H.I.E.L.D. agent-turned Avenger.
Footage from the film that screened during Marvel's Comic-Con presentation included Natasha encountering a masked figure on a bridge. In the fight that ensues between them, they end up mirroring each other. Many have speculated that this masked character is Taskmaster, a Marvel Comics villain with "photographic reflexes" — essentially the ability to immediately mimic an opponent's fighting style.
Schaeffer scripted that fight scene and worked closely with the film's producers on it.
"It's very rare to see something on screen how you pictured it in your head," she says. "To see that in motion with the actors was thrilling."
Schaeffer points out that writing Natasha Romanoff, a human, mortal superhero, is a starkly different experience to writing for characters like Vision and Scarlet Witch in WandaVision.
"The fighting [in Black Widow] is a lot of close contact, hand-to-hand combat," she says. "It's very visceral. There's a lot of aggression and power in a very human way that I find really satisfying and really exciting to watch, but it's the polar opposite to writing for super-powered characters."
"I would like to see alternatives to violence in superhero movies.
It's clear Schaeffer is psyched about the action sequences in Black Widow. She does, however, pose this challenge to creators of superhero projects: "I would like to see alternatives to violence in superhero movies." She added, "Maybe I would qualify that by saying, alternatives to glamorizing guns and weaponry. That's one of the reasons that I love Captain Marvel — it's all about inner power. And the destruction is not at the expense of human life."
Something else Schaeffer would like to see more of in superhero projects in the 2020s — which she says Marvel already excels at — is villains with more complexity. She points to Michael B. Jordan as Killmonger in Black Panther. He's a good example of a villainous character whose motive and emotions displays shades of gray.
"My kids are really obsessed with 'good guys vs. bad guys,'" Schaeffer said of her two preschool-age children. "Sometimes I explain [to them], 'Every good guy can be a bad guy' and vice versa. It's complicated, but that's sort of lost on them. That's one thing that I think can be explored more in the future — I would hope that there are ever-increasing moves toward the gray and toward complexity."
As she expects to do more producing work in the next decade of her career, Schaeffer says she "would like to create a space for more voices and to create more opportunities for other writers. I would like to be a part of changing the structure of the industry to make the lifestyle more feasible to a wider range of people." She cited changes that may seem small but can create that lifestyle shift — such as child care being available on set for filmmakers who are parents.
Among Schaeffer's projects to look out for in the future is The Shower, a feature Schaeffer wrote about a baby shower that gets interrupted by a massive meteor shower that rains blood-sucking aliens down on Earth. In early 2016, Hathaway was reported as being attached to star in the sci-fi comedy. (It was a meeting with Wilson prompted by that script that led to the Australian actress-producer hiring Schaeffer for The Hustle.) Currently, The Shower is on hold while Schaeffer is busy with other projects.
Wherever her career takes her, Schaeffer has a few guiding principles:
"I choose to be a part of projects that are about positive representation. We need to see women, we need to see people of color, we need to see nuanced experiences, and we need to see different perspectives on screen," she says. "I choose to work with people who are interested in changing perspectives for the better, and putting a world on screen that is something we can aspire to and have conversations about, and moving in a direction that will create a world I hope will be better for my children."
Also read: 'Black Widow' Writer Jac Schaeffer Reacts to a "Surreal" First Comic-Con
Jac Schaeffer is a member of the Inverse Future 50.