Adria Arjona Is "Done Apologizing," and Wants the Same for Women Everywhere
The star of Amazon's 'Good Omens' and next summer's 'Morbius' is ready to shake up Hollywood. 
by Sydney Bucksbaum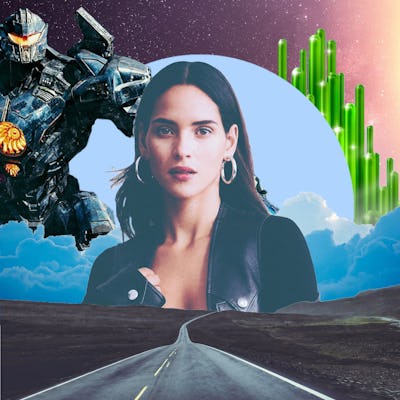 Natasha Chomko, aka POST-WOOK, for Inverse
Adria Arjona should be tired. She's spent the past 24 hours doing a marathon of press for Good Omens, her new Amazon Prime Video streaming series, first at a junket full of reporters before a quick change into formal wear for the red carpet and world premiere at London's Odeon Luxe theater in Leicester Square. The publicity responsibilities lasted into the late hours of the night.
And as such, Arjona has earned herself a lazy morning of sleeping in and doing absolutely nothing.
But the young actress is up early to begin a second day of interviews, operating on only a few hours of sleep. You can't tell by looking at her, though. Arjona is sitting perfectly upright on an ridiculously comfortable-looking overstuffed couch, fresh-faced and enthusiastic, sitting so far forward that she's barely even on the couch anymore. And there's no coffee in sight! This is all natural energy. What's her secret?
Arjona is excited about the international premiere of Good Omens, her new Amazon series, of course, but as our conversation turns toward the future of the entertainment industry and her desire to make her career meaningful, her energy truly shines. It's clear she's ready for what comes next: changing the industry, and then the world.
See also: Why the Future of Hollywood Is Latinx
Not that Arjona would tell you her goal is "changing the world." The bilingual, Puerto Rican actor is humble about her desire to express herself through art and tell great stories. It's how she came out of her shell when she was just a kid, following her father Ricardo Arjona (aka El Animal Nocturno), one of the most successful Latin American musicians of all time, around on tour.
"I grew up in a very artistic, very strange background and childhood, but I didn't quite feel like I belonged," Arjona tells Inverse of her "bohemian" experience. "I was incredibly shy, but I started acting, and it changed my life. I moved to New York and everything began after that."
Before breaking out in 2016's horror film, The Belko Experiment, Arjona slowly made a name for herself in both film and television, from roles in Season 2 of True Detective to a few episodes of Person of Interest. Earlier this year, she was in Netflix's underrated Triple Frontier and even starred as the first Latinx Dorothy Gale in NBC's Wizard of Oz live-action series Emerald City in 2017. That impressive record beget her Good Omens starring role opposite Michael Sheen and David Tennant.
But Arjona's biggest role is yet to come: She stars opposite Jared Leto in the upcoming Marvel movie Morbius, set in the shared Spider-Man universe, hitting theaters in the summer of 2020.
While she credits most of her professional attitude and success from seeing firsthand how her father handled his music career and fame, the biggest lesson she's learned came from her own experiences on set. 
"I have a really big problem in this industry because I'm very passionate, and I get very into it," Arjona says. "So a lot of times people think that's really aggressive. I'm also very ambitious, and I want things done right. I love what I do and I'm very specific. A lot of times people take that as I'm bossy or whatever. It used to affect me because I'm a really nice person."
But somewhere along the way, she had the light bulb moment. And that's when everything changed for her. "I've had a big epiphany of: I don't care. I'm not going to apologize anymore," Arjona says. "I love what I do so much, that whatever it is that will make me do it well, I'll do it with kindness, and I will be listened to. My opinions do matter. That to me is a big priority."
" Who cares if people call you the 'B' word; we're in 2019! I have learned that and owned my power … If I have an opinion — with kindness behind it — I will let it come through."
Arjona is done staying quiet for fear of hurting her reputation, and she wants other women to feel the same way. "Women should stop being afraid. It's time we stop being afraid of saying what we want," she says. "Who cares if people call you the 'B' word; we're in 2019. I have learned that and owned my power. This is who I am. I am not going to people please and just be this sweet little girl who says yes to everything. If I have an opinion — with kindness behind it — I will let it come through."
That's an empowering stance for the 27-year-old to take for herself. But she's not just satisfied with bettering her own experiences in Hollywood. She wants to make the entire industry a safer, more open space to hear all kinds of opinions and stories, and she plans to step behind the camera as a producer to help make that dream a reality.
What is shown onscreen then filters through society with the potential to make real, lasting change, she tells me.
"There is a generation that's coming that needs those doors to be opened."
"All I ever want to do is give opportunities to Latin American women," Arjona says. "That's my job. That's my duty. There is a generation that's coming that needs those doors to be opened. I'm here now and I feel really fortunate to be where I am, but I also know that I have to keep propelling forward and open certain doors so young girls can have it way easier than I did or Salma Hayek did. She opened so many doors for me."
Still at the beginning of her own career, it would be understandable if Arjona was focusing on getting roles and name recognition right now – paying it forward can come later when she's a household name. After playing witch Anathema Device in Good Omens and her upcoming co-starring role opposite Jared Leto in Marvel's Morbius, set in the shared Spider-Man universe, that moment is certainly not far off. But Arjona has no interest in waiting to help lift up others like her, whether they're Latinx, female, or otherwise.
"We have very talented women and men, writers, and directors — really smart people that need to be represented," she says. "A lot of people think it's a competition, but there's no competition in the arts. I don't believe in that. If another Latin American actress can interpret a role differently, then good! All I want is to see them there."
She smiles, then adds, "Every time I see a Latin American actor, I'm like, 'Yes!' That means things are getting a little easier. That means I can get another job. That is my responsibility, that's all I want to do is open those doors for others."
And the same goes for women everywhere — Arjona is a firm believer that there's room at the top for all women. It's not about stepping on others to find your own success, because when you support other women, that's when everyone finds success.
"As women, we need to learn how to not compare each other and belittle each other and criticize each other," Arjona says, noting that there's a lot of work to be done to deprogram that way of patriarchal thinking. "We need to start lifting each other up and making each other feel comfortable and beautiful and smart and listened to and grab that girl's hand next to you and be like, 'Come on, we're doing this together.'"
"We need to start lifting each other up and making each other feel comfortable and beautiful and smart and listened to."
She clasps her hands together and closes her eyes as she continues with even more passion. "I really, with every inch of my body, believe that," Arjona adds. "I'm a girl's girl. I love women, and I love to see them shine and do well and be respected. I really admire when a woman stands her ground and says, 'No, I'm going to say this and you better listen.' And I'm right behind her, like, 'Yeah, you better listen!'"
Arjona breaks off into laughter, but it's clear that this is no joke to her. She's had most of her life to imagine what her career and fame would look like, seeing the perfect example in her father. And she's always planned on using her own success as a platform for real change.
"The thing that excites me the most is, with fame, people listen," she says. "You have a voice. Well, that and you get free shit." She laughs again and jokes, "Equally as important: having a voice and getting free stuff."
The entertainment industry is currently in a state of massive change. What began with the Time's Up and #MeToo movements has turned into a complete cultural shift, onscreen and IRL, and it's one that Arjona has felt on set. Sure, she says, people aren't hugging anymore. But they're also listening more to everyone across the board, from the stars at the top of the call sheet to the crew members at the bottom. It doesn't matter who you are or what your position is; your opinions and feelings matter just as much as the next person. It's a positive direction for the industry, and one that Arjona is excited to keep pushing forward.
"I feel the difference when people ask me for my opinion on set now," she says. "It's not because I've done more work; it's because they understand that I'm the woman playing it and, sometimes — well most of the time — it's written by a male. They need to see my perspective. I've been asked questions more. I feel like my intake is needed and they listen."
When Arjona first started out in her career, acting was just "getting your mark, saying your lines, let's go." Now, it's a more collaborative process. She has more say in her characters, and that's resulting in more authentic, inclusive, and diverse representation onscreen. "I've seen that shift in roles as well — people are more open to hearing a female story," she adds.
She points to her upcoming role in Sony's Morbius, where she's playing the female lead, as the perfect example. Ten years ago, that part would have been just a love interest, perhaps an extremely flimsy one that wouldn't pass the Bechdel test. But now, with Marvel Studios finally shining a spotlight on its female characters after Ant-Man and the Wasp, Captain Marvel, and that empowering all-female team-up moment in Avengers: Endgame, Arjona is happy to see the pop culture phenomenon turning a corner in feminist representation.
"I play Martine, and she's not tough, but she's strong, which is a very distinct difference," Arjona says of her three-dimensional, complex Morbius character. "The definition between tough and strong is important. She's strong, sure of herself, and is extremely intelligent. I love that. She's not dumbed down. You don't look at her as a physical being. You really stop and listen to what she has to say."
Martine Bancroft, aka the fiancée to Michael Morbius (Leto), is also an accomplished figure in STEM, something that Arjona hopes will be a role model to young women everywhere. "She's a scientist and speaks in fancy language and holds her ground and almost has this motherly quality to her," Arjona says. "She likes taking care of people. She's a real woman, and I think a lot of people will identify themselves with Martine."
Fans may have to wait until summer 2020 to see Martine, but Arjona has already broken some pretty important barriers with one of her previous roles. In 2017, she made headlines for playing the first Latinx Dorothy Gale in NBC's live-action Wizard of Oz series Emerald City. But she almost didn't audition for the starring role because she never imagined that she, a Puerto Rican, could play the iconic part.
"I love The Wizard of Oz, and I had always seen Dorothy Gale being played by … well, women who look like they were from Kansas," Arjona says with a sardonic laugh. "But in today's day and age, we know that anybody could be from Kansas. I wanted to see that represented onscreen. To be the first Latin American to ever play the role of Dorothy Gale was a really big thing for me."
Looking back on the audition process, she's almost ashamed now of how she was the only one holding herself back from success. "I remember everyone telling me, 'You should go in [for the part]!' I was the one saying, 'No, they're never going to hire me,'" Arjona says. "So I ended up preparing more than I ever prepared for anything in my life before, because I knew I had to prove them wrong. And I did."
When she actually landed her dream role she never thought she could play, it felt like "a slap in the face." That was when Arjona finally understood just how much power and potential she had with her career. "I felt really accepted and powerful," she says. "Now I could play pretty much anyone that I fall in love with as long as I really work hard."
Now she's dedicated to helping others feel the same way. "We're getting there," she says with a hopeful smile. "We'll get there."
See also: Why the Future of Hollywood Is Latinx
Adria Arjona is a member of the Inverse Future 50. She stars in Amazon Prime's 'Good Omens', and will star opposite Jared Leto in 'Morbius' in the summer of 2020.