Huh, They're Making a Spider-Man Spinoff About Morbius, the Living Vampire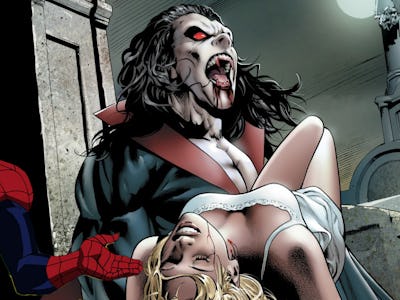 Marvel
In a very unexpected move, Sony is developing a Spider-Man spinoff movie about your favorite Marvel character, Morbius, the Living Vampire.
That's right, Morbius fans! Morbius, a Marvel antihero who is both alive and a vampire, is headed to the big screen.
The exciting Morbius news broke on Monday when The Hollywood Reporter published a story about Sony's rapidly expanding Spider-Man franchise. Sony and Marvel famously came to an agreement that allowed Peter Parker to join the MCU, but the studio is still planning on making a bunch of possibly unrelated movies about other Spider-Man characters, including Venom, starring Tom Hardy, and a Silver Sable and Black Cat film.
On the off chance that you, dear reader, are not a die-hard fan of Morbius, the Living Vampire, here's his whole deal. Morbius was created by Roy Thomas and artist Gil Kane for Amazing Spider-Man #101 in 1971. The issue, which happened to be the first Spider-Man not written by Stan Lee, also dealt with Spider-Man growing four extra arms before fighting a vampire.
Morbius's true identity, we eventually learn, is Dr. Michael Morbius, a scientist suffering from a rare blood disease. In an attempt to cure himself, Morbius accidentally gains vampire powers through medical, rather than supernatural means. Although he began as a villain, Morbius, the Living Vampire eventually took on a somewhat more heroic role, as he tends to just drink bad guys' blood.
Not much else is known about the Morbius movie. Burk Sharpless and Matt Sazama wrote the script, according to THR. The pair also worked on the Power Rangers movie, Dracula Untold, and Gods of Egypt, a string of titles that doesn't necessarily bode well for the Morbius movie being any good.
The Morbius, the Living Vampire movie does not have a final title or release date yet.