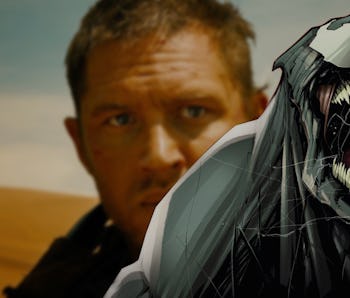 Entertainment
'Venom' Movie Begins Filming; See Tom Hardy in the First Photo
Marvel
There are still plenty of questions to be asked about how, exactly, Sony's upcoming Venom movie starring Tom Hardy is going to work, but at least we have visual confirmation that it's actually happening. On Monday night, the studio shared the first set photo and announced day one of filming.
The picture, which was posted to the Venom movie's official Twitter account, is fairly underwhelming, which isn't really that surprising given that production on the film literally just started. However, it's neat to see Tom Hardy on the set (I wonder how this movie will obscure his face), and the picture seems to indicate that the Twitter account will be dropping set photos and small teases on a fairly regular basis as filming progresses.
In addition to Hardy, the upcoming flick will also star Riz Ahmed, Michelle Williams, and Reid Scott, though they're not in the new photo. Sony has stated that Venom won't be like any previous Spider-Man or Marvel film, so there's still tons of mystery surrounding the brutal symbiote's return to the big screen. The last time Venom was in a movie was back in 2007, when he was played by Topher Grace in Sam Raimi's Spider-Man 3.
Venom is slotted for an October 2018 release date.
If you liked this article, check out this video on the evolution of Spider-Man video games.