Sony Says 'Venom' Won't Be Like Any Marvel Movie Before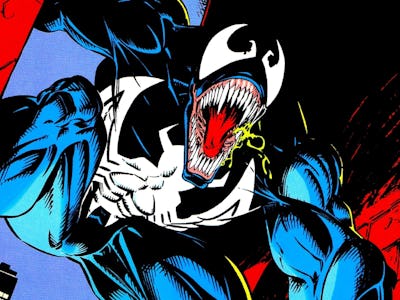 Marvel Entertainment
It took a lot of behind-the-scenes corporate maneuvering for Spider-Man: Homecoming to happen. A co-production between Sony Pictures and Disney-owned Marvel Studios, the new Spider-Man movie is a joyous occasion that is sure to sweep the box office when it swings into theaters on July 7. But one of Spidey's darkest villains, Venom, is getting his own solo movie to kickstart a new movie universe, and Sony is telling fans now that it will be unlike any Marvel movie before.
In a new article from the Wall Street Journal that breaks down the who-gets-what between Marvel and Sony under the licensing agreement, Columbia Pictures President Sanford Panitch said that the studio's upcoming productions — 2018's Venom starring Tom Hardy (Locke) and a still-untitled Black Cat and Silver Sable film — will not resemble any previous Marvel movie from either Sony or Disney.
"They won't be like any Spider-Man movie or Marvel movie that has been made before," Panitch told the Wall Street Journal.
Sure, it's a vague statement, but fans familiar with the material can guess where Sony is trying to aim its sights. With a character like Venom, a villain/anti-hero imbued with an alien parasite that enhances aggression is a ready-made character for a horror film. That's a genre that rarely intersects with the world of superheroes, at least in cinema. One of the most famous examples is 1997's Spawn, from director Mark A.Z. Dippé, which failed to start a franchise in spite of a successful box office performance.
Venom previously appeared in Sam Raimi's Spider-Man 3 — directed by Sam Raimi — played by actor Topher Grace (Interstellar).
Spider-Man: Homecoming will hit theaters on July 7.