Star Wars: Galaxy's Edge Opening: Immerse Yourself in Photos and Videos
Starting May 31, you can escape to a galaxy far, far away.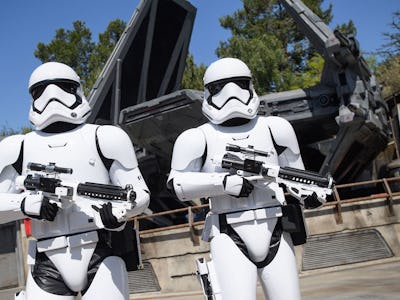 StarWars.com
In what could only be described as a serious rival to the Wizarding World, Disney's Star Wars: Galaxy's Edge opens May 31 at Disneyland in Anaheim, California. Days before the park opened to the public, several outlets paid an early, line-free visit, and the first photos show just how detailed and immersive the Galaxy's Edge experience will be.
Besides official photos published on StarWars.com, outlets such as Polygon, GameSpot, Entertainment Weekly, and more, shared photos that show just some of the majesty that awaits at Galaxy's Edge.
Opening May 31 at Disneyland and August 29 at Walt Disney World in Orlando, Florida, Star Wars: Galaxy's Edge is the biggest Star Wars-themed expansion to the Disney parks to date. The park "takes place" in between Star Wars: The Last Jedi and Star Wars: The Rise of Skywalker.
The setting is Black Spire Outpost, a way station on the planet Batuu where Chewie has "parked" the Millennium Falcon (although you can guarantee the Falcon will stay parked for as long as Galaxy's Edge is in operation). Aside from shops that allow guests to buy authentic Star Wars cosplay, and even pick up their own custom lightsaber, Galaxy's Edge offers unique and original food options you can't get outside the park. In addition, all park employees play their own original characters, with whom you can interact with.
Journalists have thus far described Galaxy's Edge "the most detailed playset ever manufactured, and you are the action figures" (EW) and the "closest we'll come to being in Star Wars" (Slashfilm).
StarWars.com has some of the most breathtaking photos of the park yet. Stand out shots include the cockpit for the Millennium Falcon (for Millennium Falcon: Smuggler's Run), Oga's Cantina, an actual eatery that mimicks the hive of scum and villainy on Tattooine (and also the only place for alcohol), and some of the exclusive merchandise available at the nine different retail shops.
While many items come in Star Wars-branded packaging, it's been previously reported that immersion is the goal for Galaxy's Edge and that the shops will not sell plain t-shirts with the Disney or Star Wars logos on them. Vendors will also not sell Coca-Cola drinks in the usual cans and bottles, but in special containers unique to the Star Wars universe.
And yes, there's blue and green milk.
Some outlets, such as CNN and Los Angeles Times, produced videos of reporters riding Smuggler's Run.
Needless to say, the attention to detail is impeccable and the overall scope is something to behold. While we'll probably change our tune when it's shoulder-to-shoulder packed with families and rides are plagued by 50 minute wait times, for now, Galaxy's Edge looks like the closest thing to escape.
Star Wars: Galaxy's Edge opens in Anaheim, California on May 31.