Differences Between The Wizarding World of Harry Potter in Hollywood and Orlando
While the Hollywood location may not offer more than Orlando's, we're happy to see the magic spreading.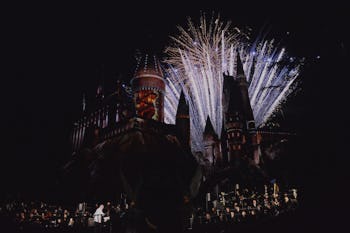 Getty Images/Matt Winkelmeyer
Universal Hollywood's Wizarding World of Harry Potter opened to eager guests, Muggles and wizards alike, on Tuesday night. Ron Meyer, a Universal executive, announced, "Orlando was just the start. It's now Hollywood's turn to have the Wizarding World of Harry Potter," as a flourish of Harry Potter theme music from the L.A. Philharmonic Orchestra ushered in the highly-anticipated opening of the theme park. The original version of The Wizarding World of Harry Potter has been up and running since 2010 in Florida, which begs the question: how is the one in Hollywood different? Let's take a look at what makes the new one special.
The main difference between the two theme parks is that Orlando's theme park offers the Diagon Alley section, which opened in 2014, in addition to Hogsmeade, while Hollywood's offers only Hogsmeade and Hogwarts. But that's only temporary.
The Harry Potter and the Forbidden Journey ride, which operates on a motion-based simulator, is the new park's most enticing attraction. When the same ride opened in 2010 Florida, it was named "Best Ride" by ThemeParkInsider.com. Riders have the chance to see staple Hogwarts locations such as the Defense Against the Dark Arts classroom, the Gryffindor Common Room, the Portrait Room, Dumbledore's Office, and the Room of Requirement. Hagrid lives close by, so stop by his hut to learn how to properly approach a Hippogriff. Hint: you have to bow first. Then take your first "training flight" by hopping on board the family friendly coaster Flight of the Hippogriff, which takes you diving and spiraling through the pumpkin patch and over Hagrid's hut. The same coaster exists in Orlando, but the one in Hollywood is slightly longer and faster.
Moving on to Hogsmeade, you'll have the opportunity to visit a variety of iconic Harry Potter locations. Stop by Ollivanders wand shop to witness the one-of-a-kind interactive experience of a wand picking a wizard, and afterwards, pick up your own wand to cast spells and perform magic throughout the rest of Hogsmeade. Pop into Dervish and Banges where you'll find all your necessary Quidditch equipment, including brooms like the Nimbus 2000, and school uniforms that correspond to your Hogwarts house.
At the Owl Post, visitors will find all their owl-related needs: dozens of owls hooting in the rafters, an Owlery clock that hoots on the hour, and a designated area to drop letters that will be delivered with a Hogsmeade postmark. These same attractions exist at the theme park in Orlando, but you can never get enough of these Hogsmeade treasures.
Two additions to the Hollywood park: An extra side street in Hogsmeade, and a clothing store called Gladrags. There's also a train car on the Hogwarts Express in which visitors can take photos (and then pay to take them home).
In Filch's Emporium of Confiscated Goods, you'll discover items that have been confiscated like the Marauder's Map in addition to a gift shop filled with all kinds of souvenirs and accessories. At Wiseacre's Wizarding Equipment, visitors can purchase more items like binoculars and telescopes to top off their wizarding essentials, and Honeyduke's offers a variety of Harry Potter sweets like Bertie Botts Every-Flavour Beans, exploding bonbons, and Fizzing Whizzbees. Get an up-close look at Hermoine's Yule Ball dress at Gladrag's Wizardwear, and get your fix of novelty items like Shock-o-Choc, Sugar Hexes, and Jumping Snakes at Zonko's Joke Shop.
Hollywood's Harry Potter theme park just opened, so it's predictably less developed than the one in Orlando. Orlando opened Diagon Alley in 2014, which is home to some of the most iconic Harry Potter locations such as Weasleys' Wizard Wheezes, The Leaky Cauldron restaurant, or the goblin-run Gringotts bank. Diagon Alley in Orlando contains Knockturn Alley, a popular shopping spot for Dark Arts supplies that contains the store Borgin and Burkes, and Kings Cross Station where visitors can catch the Hogwarts Express over to Hogsmeade. Based on size alone, the 13-acre park in Orlando has more to offer than the six-acre one in Hollywood.
Space is limited at the Hollywood theme park, but a Diagon Alley expansion is reportedly in the works, according to someone who has seen the blueprints. Even if it's a while before we see any more developments, the opening in Hollywood is an important step in the right direction: toward a world filled with even more Harry Potter magic.