Ruby Rose Cast as Batwoman in The CW's Upcoming Arrowverse Crossover Series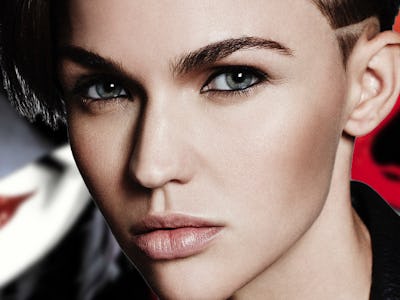 On Tuesday, The CW announced that actress Ruby Rose (John Wick 2, The Meg), who identifies as genderfluid, is officially signed on to play Batwoman in the upcoming annual DC TV crossover. Rose will also play Batwoman should the character's solo television series Batwoman be greenlit for production.
In this year's crossover with Arrow, The Flash, and Supergirl, Rose will play Kate Kane, a.k.a. Batwoman, the red-headed member of the famous Bat-Family and cousin (sort of, it's complicated) of Bruce Wayne.
Plot details are currently under wraps, but the crossover will introduce Gotham City for the first time to the "Arrowverse" continuity. And instead of tired old Batman and Robin, it will be Batwoman who teams up with the Arrowverse superheroes, including Green Arrow, The Flash, and Supergirl. (Sadly, the heroes of Black Lightning and Legends of Tomorrow are excluded from the crossover.)
In the official logline for Batwoman, The CW confirms the character's lesbian identity and her "passion for social justice."
"But don't call her a hero yet," The CW teases. "In a city desperate for a savior, Kate must overcome her own demons before embracing the call to be Gotham's symbol of hope."
Batwoman's appearance in the crossover will, of course, precede her television series. But the crossover will not be a backdoor pilot for Batwoman, reports Deadline. Should Kate Kane get her own series, Batwoman will still get her own pilot, much like how The Flash spun off from Arrow.
Batwoman originally debuted in 1956 in the pages of Detective Comics #223. In 2006, Kate Kane re-emerged as an out lesbian in issue #7 of the DC series 52, entering a relationship with Gotham City detective Renee Montoya. She later entered a relationship with Maggie Sawyer, another detective who appeared throughout Seasons 2 and 3 of The CW's Supergirl (played by Floriana Lima).
Ruby Rose first emerged as a model and MTV VJ in Australia before skyrocketing to fame as Stella in Season 3 of the Netflix series Orange Is the New Black. Between 2016 and 2017, she became an action movie staple in films like xXx: The Return of Xander Cage, Resident Evil: The Final Chapter, and John Wick: Chapter 2, in which she had a fight scene with Keanu Reeves. She'll next appear alongside a shark in The Meg.
Rose's Batwoman will be the first live-action interpretation of the character. In animation, other actresses have voiced the vigilante, including Yvonne Strahovski (The Handmaid's Tale) in the 2016 direct-to-video film Batman: Bad Blood.
There is no premiere date for the annual DC TV crossover yet.