Arrowverse to Introduce Batman Characters and Gotham, First With Batwoman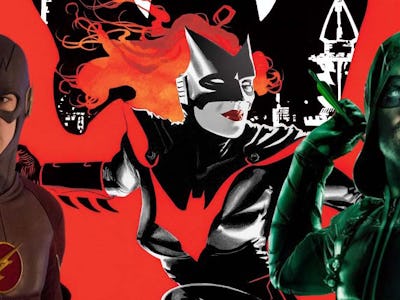 The CW, DC Comics
The Arrowverse just got a lot bigger, because now it has Gotham City. This year's annual crossover of the DC TV shows on The CW will introduce Batwoman, who will join the Green Arrow, The Flash, Supergirl, and the Legends of Tomorrow in a yet-to-be revealed storyline.
On Thursday at the CW Upfronts in New York City, Arrow star Stephen Amell announced that the crossover will introduce Batwoman to the Arrowverse.
"We're incredibly excited to announce that we'll be doing another crossover event this fall on the CW, and we'll be introducing a new character," Amell said at the event. "For the very first time appearing, we'll be fighting alongside Batwoman, which is terrific. The crossover is going to make it to air in December. I need to leave right now and start filming it."
"We are adding the city of Gotham into the Arrowverse," added CW boss Mark Pedowitz. "This will be another full-throttled action packed event."
This will be the first time Batwoman has ever been depicted in live-action. First introduced in 1956, her modern version debuted in the 2006 comic book series 52. Real name Kate Kane, she is the daughter of Colonel Jacob Kane, and was a star student at West Point until she was outed as a queer woman, forcing her to leave the school. When Batman saves her from a mugging, Kate is inspired to take up her own mantle using weapons from her father's military base. More recently, Batwoman was the second-in-command to an ensemble team in the pages of Detective Comics following the 2016 soft reboot, Rebirth.
It is unlikely the inclusion of Batwoman in the Arrowverse will lead to Batman, at least for now. But there have been numerous references to Batman across all shows, including Arrow and Supergirl, and Superman has already appeared in this same universe. This Gotham City will also not be the same one seen on Fox's Gotham, which will air its final season this fall.
Arrow's Season 6 finale will air Thursday, May 17, at 8 p.m. Eastern on The CW.