'Castle Rock's Most Compelling Character Is a Psychic With an Oxy Habit
Melanie Lynskey opens up about her role as empath Molly Strand.
by Catie Keck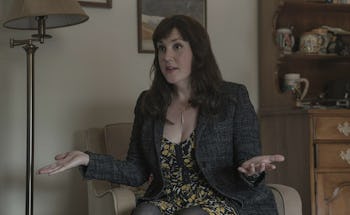 Castle Rock
Castle Rock has no shortage of creepy characters, but Molly Strand, played by Melanie Lynskey, just might be the trickiest in the weird Maine town that's the subject of the new Stephen King-inspired series that premiered this week. Strand is a troubled psychic (who may possess some sort of shine) with a drug habit, a dark past, and claims to hear voices. She's one of the series' stand-out characters.
Because Strand is new to the King universe, Lynskey was able to start with a clean slate for the ten-episode Hulu series from Dustin Thomason and Sam Shaw. Castle Rock is an original story peppered with Stephen King Easter eggs.
"The wonderful thing was I didn't have any preconceived ideas, " Lynskey tells Inverse. "I didn't feel the kind of overwhelming responsibility to get something right. I was able to create a new person."
That new person is a realtor with an appetite for Oxycontin who claims a unique sensitivity to other people's "noise." Described snidely by Molly's sister (Allison Tolman) as an "undiagnosed psychic affliction," her empathy is particularly responsive to Henry Deaver, her childhood friend and neighbor. It's her connection to and fondness for him that unfurls one of the most shocking twists of the series — one specifically tied to the death of Henry's father.
Her psychic connection to Henry and to those around her is what makes the element of her addiction so compelling and nuanced. Lynskey says she approached playing a person addicted to opioids with subtlety. Instead of craving a fix, audiences witness her become increasingly unhinged if she's not self-medicating.
Molly's use of prescription painkillers, which she considers a form of necessary medication, is "not a healthy coping mechanism," Lynskey says of her character. "Obviously, it doesn't work 100 percent, and it's dangerous, and she's kind of humiliating herself to try to get the medication. I mean, I've learned a lot about how people get drugs when they can't get a prescription."
One such method that didn't make it to the final cut of the series involved Molly eating drug-soaked photographs, a workaround real world jails were cracking down on as recently as 2016.
"There's some real humiliation involved in trying to keep this kind of baseline," Lynskey says.
A question about Molly's character that may arise for many Castle Rock viewers is why she would stay in a place as seemingly toxic as Castle Rock, Maine, particularly as it pertains to her childhood trauma.
Why she stays is one of Molly's more perplexing character elements. Guilt, as they say, is a potent emotion.
"I mean, she could move to another town where she doesn't have all this history, and there's not all this sort of violent activity that's happened that keeps popping up in her psyche," Lynskey says. "I think she feels so guilty about her own past that she feels like she has to stay there and sort of make amends to the town in a way."
How that'll spin out for Molly is among the series' most compelling storylines and likely one that Castle Rock showrunners Shaw and Thomason will tease out for some time, to the benefit of viewers.
Lynskey hints that there's more to come before or if Molly sees any kind of resolution in her life: "I will say it gets worse before it gets better."