Every Single Stephen King Easter Egg in 'Castle Rock's First Five Episodes
'Needful Things', 'The Shining', 'Cujo', and many, many more.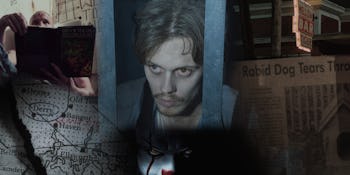 Hulu/Warner Bros.
Castle Rock, the new series set in the world of Stephen King, is an original story that, as of its first few episodes, stands alone. Viewers can enjoy Castle Rock even if they don't have much familiarity with the horror master's work, and that's a good thing because it keeps the series from feeling like a shallow Easter egg-hunt.
But, even though the references to other King works aren't an overbearing distraction from the plot, there are still plenty of nods to King's library. Here are some of the biggest allusions to some of King's most iconic stories that you may or may not have spotted in Castle Rock's first four episodes.
What Stephen King references did you find in Castle Rock? Email yours to eastereggs@inverse.com.
The Opening Credits
They aren't present in the first episode of Castle Rock, which begins with a cold open, but starting with the Episode 2, the credits of the Hulu series are jam-packed with references to some of Stephen King's best-known novels and stories. Here are all the ones we spotted, in order.
And, once you get into the show itself, there are plenty more Easter eggs.
It's not really fair to call Shawshank State Prison an "Easter egg," since it's a huge part of Castle Rock. It is, however, the same Shawshank from the novel, as evidenced by a line referencing a bullet hole in the warden's office from where Warden Norton shot himself at the end of Redemption.
Episode 2 reveals that the prison is on Redemption Road, which is cute.
Alan Pangborn
Again, not really fair to call this an "Easter egg," since Pangborn (Scott Glen) is a central character in Castle Rock. He saved the protagonist Henry Deaver when he was a kid and is currently taking care of Deaver's mom. It's not Pangborn's first appearance in a King story, though, as the Sheriff was also the protagonist in Needful Things and The Dark Half.
Jackie Torrance
In Episode 5, Jackie Torrance reveals that her real first name is Diane, and that she changed her name to Jackie in homage to her uncle Jack Torrance of The Shining. She is a writer and finds Jack's story — the one where he went insane while working at the Overlook Hotel and tried to ax-murder his family — really interesting.
Richard Chambers
When we meet Henry as an adult, he's working to save Leanne Chambers from execution for the murder of her husband, Richard Chambers, one of the antagonists from The Body (the novella that Stand By Me was based on). Back when he was younger he went by Richard "Eyeball" Chambers, but according to Castle Rock, he met a grim end.
The Body gets another mention in Episode 2, when the late Warden Lacy recounts some of Castle Rock's horrible history.
Needful Things
In Episode 2, when rifling through some newspaper clippings, Henry finds a story about Needful Things (the cursed curiosities shop from the novel of the same name) burning down and owner Leland Gaunt going missing. Readers will remember that Sheriff Pangborn played a huge part in that.
The Body
Another clipping confirms that the "boy's body" was that of Ray Brower, making this a reference to The Body. (Fun fact, the novella was set in Maine, but Stand By Me changed the setting to Oregon.)
Cujo
This rabid dog is clearly a Cujo reference.
Lord of the Flies
The book the Nazi inmate is reading is only an Easter egg because King got the name "Castle Rock" from Lord of the Flies. In the classic book, it's the name of the fort some of the stranded boys establish for themselves.
The Yarn Mill
While talking to her sister, Molly Strand (who appears to have psychic abilities much like the Shine from The Shining) talks about her plan to revitalize an old mill, a possible reference to the textile mill in the short story The Graveyard Shift. That mill was infested by a giant, advanced rat colony.
Mellow Tiger Bar
Henry and Jackie meet at a bar that appears in Needful Things, and Jackie mentions another restaurant that appears in It and The Sundog, Nan's Luncheonette.
Pet Sematary
At the behest of Henry's mother Ruth Deaver (who is played by the original Carrie actress Sissy Spacek), Pangborn digs up a dead pet dog to ensure that it hasn't risen from the grave, à la King's Pet Sematary.
The Reaper's Image
In Episode 4, When we see The Kid in the cell that he briefly shared with a Nazi, there's graffiti all over the walls. Most of it the words aren't Stephen King Easter eggs — there are some Guns 'N' Roses lyrics and a shout-out to the musician David Allan Coe — but the phrase "The Reaper is watching you" seems like a reference to King's 1969 short story The Reaper's Image, about an antique mirror that's haunted by the Grim Reaper.
"A serial strangler died in my house."
While showing the Lacy home to potential buyers in Episode 4, Molly tries to explain that it's really not a big deal that somebody who violently killed himself lived there. "A serial strangler died in my house, and I sleep like a baby," she says, a likely reference to Frank Dodd, a killer who preyed on Castle Rock in The Dead Zone. It's not the first time that a serial stranger has gotten a mention — Lacy alluded to one while listing some of the terrible things that have happened to Castle Rock in an earlier episode.
The Desjardins
In Episode 4, Henry tries to figure out what, exactly, happened when he went missing as a kid. He learns that Vince Desjardins, a convicted felon, lived near where he was found and goes to the house to confront him, meeting his brother, Joseph Desjardins, instead and having a creepy conversation. Vince Desjardins was a member of Ace's gang in The Body/Stand By Me. It might be a double Easter egg, actually. In Carrie, Rita Desjardin (no "s") was Carrie's P.E. teacher in the nearby town of Chamberlain, Maine, though it's unclear if she was related to Vince or Joseph.
Lou Hadley
Before the Kid gets released from Shawshank in Episode 5, he watches a video about reintegrating into society that's hosted by a Lou Hadley, who shares a last name with Chief Byron Hadley, one of the antagonistic guards from Rita Heyworth and the Shawshank Redemption.
Juniper Hill
Also in Episode 5, when Henry takes the Kid to get a medical exam, the doctor says she might be able to "pull some strings" and get him a bed at Juniper Hill. King fans might recognize Juniper Hill Asylum as a fictional mental hospital in Castle Rock that has appeared in several King stories, including It, where the deranged bully Henry Bowers is a patient.
Cujo
When a big dog barks at Ruth Deaver during Pangborn's dedication ceremony, it's hard not to think of Castle Rock's most infamous dog, Cujo. Later in Episode 5, Jackie alludes to the rabid Saint Bernard again when she mentions how Castle Rock used to be more interesting, full of "serial killers and psychopathic dogs."
27 Years
When Pangborn confronts the Kid at the end of Episode 5, he recalls how they've met before. In 1991, Pangborn stopped Warden Lacy and found the Kid locked in the back of his trunk. Having seen some messed-up shit in Castle Rock before, Pangborn trusts Lacy when he says he has the devil in his trunk, and lets him go. Pangborn notes that the Kid hasn't aged a day in 27 years. In It, Pennywise the Dancing Clown returns to prey on Derry every 27 years. Skarsgärd, who played Pennywise in the movie, appears to be playing a different character, but the 27-year gap is too much of an Easter egg to be pure coincidence.
There will be more Easter eggs and references to King's other works as Castle Rock's first season goes on. In an interview with Inverse, the Castle Rock showrunners Dustin Thomason and Sam Shaw indicated that nothing is really off the table, including The Dark Tower. So, keep your eyes peeled.
New episodes of Castle Rock hit Hulu on Wednesdays. The first three are available to stream now.