The 8 Best Netflix Shows for Sleeping
It's horrible for your brain and you're going to do it anyway. Here's how to do it right.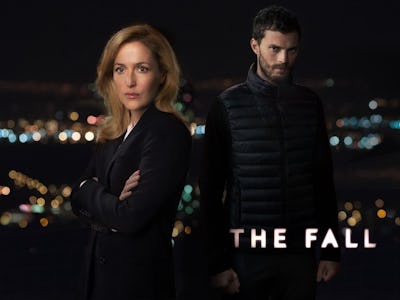 Facebook
Netflix is a monster and your best friend (not unlike your actual best friend). Will it sing you a lullaby? Well, studies show that watching television as you fall asleep is like giving yourself a scalp massage with a hammer, but sure. It will and — judging from the company's streaming stats — it probably already does.
If you're going to sink to a deep slumber and have had enough of watching Gossip Girl reruns, turn to one of these great, albeit slow, shows. You'll thank us when you wake up rested and within arm's reach of your email.
The Fall
Jamie Dornan's horny and haunting ways actually predates Fifty Shades of Grey. His breakout role was in the BBC crime drama The Fall, where he plays a chilling serial killer that spooks the city of Belfast. Gillian Anderson slays as the whip smart, badass cop hot on his trail. Each episode of the two season show is only an hour long and makes for a wonderful nightmare.
Every episode of the hallmark HGTV show is the same: A couple tours three homes, spews out a lot of phrases like "open concept" and "crown molding," then choose the option they can't afford while telling themselves they can "make it work." The show is incredibly comforting if you don't remember that whole housing market collapse thing.
Finally, there's methadone for recovering 30 Rock addicts. Jane Krakowski basically plays a Real Housewife version of Jenna Maroney, and Ellie Kemper (a.k.a. Kimmy Schmidt) is a wonderfully ditzy yet earnest woman readjusting to life after spending much of it underground. Oh, and that damn theme song — sorry in advance if it haunts your dreams.
David Gelb, the director of the documentary Jiro Dreams of Sushi, brings us another tasty series about food porn. Each of the six episodes of the Netflix original focuses on an award-winning chef's livelihood and restaurant. It's a refreshing show for foodies since it's neither a competition (sorry, Top Chef) or a cooking show (aw, we still love you Giada!). Rather, it's a refreshing and fulfilling docudrama that puts the focus on food for once.
Maggie Gyllenhaal stars in this slow burn of a thriller that also originally aired on the BBC. Imported stateside on Sundance, the eight episode miniseries about a British-Israeli woman (Gyllenhaal) who inherits her father's arms business while working to bring prosperity to Palestinians. It begins with one of the most dramatic scenes on television ever.
It wouldn't kill you to learn something for once. In this series from the Discovery Channel (so you know it's legit), host Danny Forster digs deep into the world's most fascinating structures the expansive Hong Kong International Airport or the Panama Canal. It's a lot more interesting than it sounds, trust us.
Those jokes and dialogue on your favorite television shows don't just magically appear. Sort of like this post! Except these people are so much more talented than me and are the focus of this Sundance series. It's a roundtable discussion of writers from your favorite shows, like Parks and Recreation and Game of Thrones. And, yes, that's Dean Pelton (Jim Rash) from Community hosting.
Lastly, you can never go wrong with an episode of the iconic comedy series. Fun little game is to watch for Jennifer Anniston's nose job. It's subtle, but you don't have to be fully awake to spot it.