How to Get That New 'Game of Thrones' Snapchat Filter in 6 Steps
You can literally join the wars to come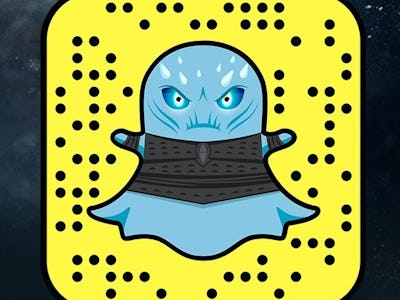 HBO
Although Jon Snow does not use Snapchat on Game of Thrones, you can use it to help him in the wars to come.
All Game of Thrones fans look forward to diving into Westeros and Essos during the show — but right before Season 7 premieres, you can also fight a White Walker or turn yourself into one. Here's how to get the Game of Thrones Snapchat filter, or lens, as Snapchat calls them.
1. Make sure you've added Game of Thrones (Below is the Snapcode; just take a picture of it in Snapchat to add to your friends list.)
2. After adding the Game of Thrones Snapchat account, you'll be able to use the lens for only an hour.
3. Close and restart the app.
4. Open your front-facing camera.
5. Tap the center of the screen.
6. Select the icy black-and-blue filter from the menu (It should be the first one.)
On Monday, Snapchat unveiled the new Game of Thrones lens that enables you to make yourself into a White Walker or to integrate them into your surroundings and stab them the same way Jon Snow did in Season 5's "Hardhome."
The mysterious and deadly White Walkers have been a threat on Game of Thrones since Season 1, but the sixth season amped up the danger. In Season 6's "The Door," the Night King marked Bran Stark, enabling the deadly White Walker leader to track down the youngest surviving Stark (RIP Rickon). Bran escaped in the nick of time with Meera Reed.
And although all Starks spent six seasons ominously muttering "winter is coming," Season 6 ended with winter finally arriving.
If watching it on your screen isn't enough, Winter can literally arrive at your office during your lunch break by using the lens. Here's a White Walker standing in the Inverse office.
Another favored Season 6 catchphrase repeated by many characters was "I wish you good fortune in the wars to come." It's safe to say those wars involve White Walkers.
Here's a peek at how you can get personally involved in the wars to come by using the lens to actually throw down with a White Walker:
Game of Thrones Season 7 premieres July 16 on HBO.