Here's Why 'Sense8' Cancelation Rumors Are in the Air
Should fans be worried about the sensates?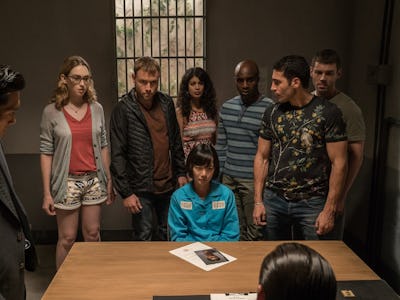 Netflix
Update: As of 2 p.m. on June 1, Netflix officially announced the cancelation of Sense8.
The Wachowskis' cerebral sci-fi series Sense8 is a show like no other — which might be why rumors abound that it might not return to Netflix for a third season. Although there have been no conclusive announcements about a renewal or a cancellation, a recent stir on social media has prompted anxiety among fans.
The show, which currently has two seasons on Netflix, revolves around eight people from different cultures and backgrounds who discover that they have a mental connection. Because Sense8 is set in locations ranging from Mexico to Germany, to India to Brazil, it reportedly costs a hefty $9 million per episode. Netflix recently cancelled The Get Down, another expensive show, helmed by an auteur-creator who has primarily worked in film (Baz Luhrmann). You can't help but see the similarities.
Sense8 producer Grant Hill told Indiewire at the beginning of May, "We would like to do a Season 3, and we're keeping everything in place until that's decided. Netflix has been very supportive, but it's always complicated. We're a reasonably expensive show and we're always pushing a little bit further."
On May 30th, the hashtag #RenewSense8 trended on Twitter. One fan wrote, "If we don't show our support for @sense8, it might not get renewed. Let's tweet as much as we can the hashtag: #RenewSense8."
Sense8 star Brian J. Smith, who plays Chicago cop Will Gorski, quoted that tweet and said, "This might be a good time to start making some noise."
The implication, of course, is that the situation might not be looking good behind the scenes. Fans were also concerned when Doona Bae, who plays Sun, posted a photo of Sun crying on her Instagram.
"I am starting to get really scared now," one Reddit user said in response to Bae's photo. "I mean I was almost positive about the prospect of a third season but two posts from 2 of the main cast members is making me question everything."
However, in March of 2017 —before Season 2's May release — Deadline reported that four of the show's eight leads closed new contracts with Netflix in anticipation of a potential third season.
It's entirely plausible that Smith and Bae merely wanted to encourage fans to make noise, and the anxiety about renewal stems from Sense8's superficial similarities to The Get Down. By ending Season 2 on a cliffhanger, the Wachowskis certainly made it clear they expect a third season.
If renewal or cancellation news comes, it's likely to be in June or July, based on the show's previous renewal history.
You Might Also Like: