Why Capheus is Played by a New Actor in 'Sense8' Season 2
Everything you need to know about the new Capheus in 'Sense8.'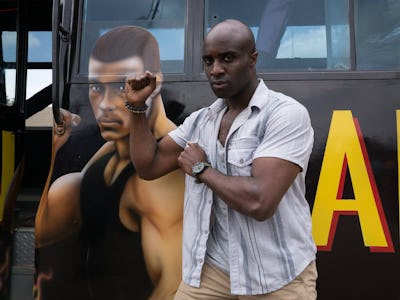 Netflix
The Wachowskis' mind-bending, sex-positive sci-fi Netflix series Sense8 is known for its sprawling cast — and Season 2 will feature even more new faces because one of its main characters has been switched. The Nairobi-based Capheus, who drives a bus called Van Damme, that is a character in its own right, is played by Aml Ameen in Season 1. Starting in "A Christmas Special" and proceeding into Season 2, Toby Onwumere was recast in the role.
This change-up was for the vague reason of "creative differences," with Lana Wachowski, which naturally led to speculation. Because Sense8 has trans showrunners and features a trans character (Nomie) played by a trans actress (Jamie Clayton), some thought Ameen had shown transphobic behavior on the set, which led to his recasting.
Jamie Clayton herself took to Twitter to clear that rumor up.
Onwumere is a newcomer, with Sense8 being his first major television role. His only other screen credit is in one episode of The Book of Dallas in 2012. As he told Inverse at the Sense8 Season 2 New York City premiere, this show was his first role after getting his MFA in acting in 2015.
"In May 2015 I graduated, in September 2015 I got to L.A., and literally a year [ago] I got the show," he said. "And it's just been a whirlwind of traveling, of orgy scenes, of love, of creativity. This process has truly been the highlight of my life thus far."
About his experience working with the Wachowskis, Onwumere said, "I didn't really have any heavy film and TV experience outside of this, but there are no rehearsals. You get there, you better be ready, because Lana [Wachowski] comes up with things at the drop of a hat. You have to be really flexible. This was a great exercise in being flexible."
Because Ameen departed in a hurry, Onwumere's audition and subsequent casting took place in the span of a week.
Some fans were hesitant about Capheus's new face after watching the Sense8 Christmas special, which was his first appearance.
But others welcomed him with enthusiasm.
As Onwumere also told Inverse, just as the year has been a whirlwind for him behind the scenes, Season 2 will also be a whirlwind for Capheus. Onwumere teased a new love interest, involvement in "the political arena," and an interaction with one sensate Capheus didn't visit with much in Season 1. "I have a really interesting [visit with] Wolfgang," he said.
Because the sensates help each other out of sticky situations, Onwumere said, "Let's say [Capheus] might need Sun, Will, and Wolfgang a little more," he said. As for sensates who need his skills, he teased, "Sun will be needing me."
Sense8 Season 2 premieres on May 5 on Netflix.