The 'Fast & Furious' Franchise Has Outgrown Dominic Toretto
'The Fate of the Furious' just confirms one thing: There's no place for Dominic Toretto anymore.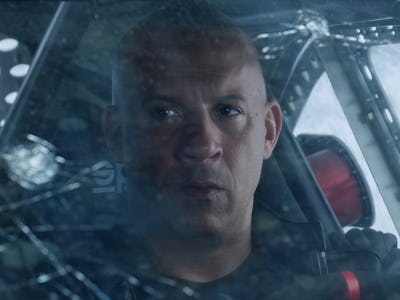 YouTube.com/Universal Pictures
After eight movies spanning 16 years, the relentless Fast & Furious franchise is starting to outgrow the character who best personifies its spirit: Dominic Toretto. In an attempt to freshen up the ensemble's interpersonal dynamics, the newest film The Fate of the Furious pits Toretto against his own team in a wacky, fun, and convoluted plot about a double-cross. But however unintentional, the film makes a great case for why retirement might be the best thing for Toretto.
Let's get this one thing out of the way: Toretto isn't going anywhere, anytime soon. The very public beef between Vin Diesel and Dwayne Johnson — who, in theory, could leverage his clout as the biggest star in Hollywood to become the new face of the insanely profitable franchise — is reportedly over. Diesel and Johnson will return to star in the ninth Fast & Furious, which already has the tentative release date of April 19, 2019. So, nothing is going to change.
But watching The Fate of the Furious, it's easy to mistake the plot as Dom's last ride. Pitted against his "family" (a word these movies are obsessed with) to ensure the survival of his son would have been a poetic, fitting end to a character with more movies than Han Solo. Fate sort of delivers on its premise while underdelivering on "Dom vs. Luke Hobbs," the real spectacle this movie was begging for. There will be a Fast & Furious 9, and it will probably, definitely have a big bad villain who will traffic in nukes or cyber terrorism or a cocktail of the two. But this stuff is old hat for reformed street racers. There is no interesting challenge left for Dominic Toretto, save for maybe an alien invasion. It's getting obvious that there's no place for Dom Toretto in the Fast & Furious anymore.
It's sad because of how sentimental these films are. Characters last longer than their presumed expiration dates, and when they are killed, it's almost always a devastating loss. And arguably no one left a bigger void than the late Paul Walker, whose Brian O'Connor was given a peaceful departure. There's no doubt that if Walker was still around, Fast & Furious would be in a different realm than it is at this moment. For so long, Brian was the heart of these movies while Dom was the soul. In Brian's absence, Dom has tried to be both, and it's become painfully clear it's just not the same. Without Dom there would be no Fast & Furious today, but without Brian, there would be no Fast & Furious at all.
As Dom showed his irrelevance, two characters stepped forward to prove why they deserve a spin-off of their own: Luke Hobbs and Deckard Shaw, played by two of Hollywood's coolest ass-kickers with black belts in charisma.
Both Dwayne Johnson and Jason Statham have played enemies to Dom's crew. Both of them — one a federal agent built like a Mack truck, the other a master criminal whose viciousness is like a horror movie monster — came into the franchise armed with more potential to do crazy-ass shit than the others ever were. It's fitting these two bonded in Fate of the Furious, even if their first scenes were nothing but trading verbal blows (and underpinned by the franchise's knack for homoerotic subtext). Since Fast Five, Dom's crew always looked like they were punching above their weight class fighting international terrorists. But Hobbs and Deckard look engineered to take on such threats on a daily basis. Watching Luke and Deckard together, it's hard to deny the movie magic these pseudo-superheroes could conjure up. If there isn't already a plan for a spin-off series at Universal, color me shocked.
With The Fate of the Furious in the rearview, it's important the studio carefully consider the series' future direction. No series in history has ever gone from such humble beginnings — an extremely dated 2001 summer action flick, aimed at teenagers, for $38 million — to grossing a billion dollars worldwide. A character like Dom Toretto doesn't become the heart and soul of a culturally transcendent franchise every day. It would be wise if F. Gary Gray's installment were, in fact, the last we'd see of Dom Toretto, allowing characters with far more flexibility like Luke Hobbs and Deckard Shaw to take over. But then again, who would bring everyone together for those sweet barbecues?
The Fate of the Furious is out in theaters now.