The 9 Coolest Comics for 'Fast & Furious' Gearheads 
Take a break from living life a quarter-mile at a time and read up on these red hot revvers.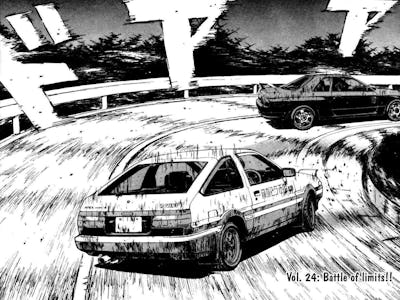 Those who claim to live life a quarter-mile at a time probably don't have time to read comic books. That's a shame because the medium has embraced car culture and vehicular combat quite enough to have a small but proud genre of stories that all share one thing in common: burning rubber.
From mangas like Speed Racer and Initial D to Marvel's Ghost Riders and badass indie stuff like Motor Crush, burning rubber is utterly sensationalized. As the next film in the Fast & Furious hits theaters — F. Gary Gray's The Fate of the Furious, is only keeping the franchise on track to become James Bond-style superhero adventures — here are some great comics for motorcyclists and gearheads alike (even though they kind of hate each other).
For those who revere Dominic Toretto, meet your new heroes:
1. Speed Racer
Here he comes, here comes Speed Racer! Tatsuo Yoshida's iconic manga and anime character began racing into comics in 1966. While Speed has moved on to different mediums like TV and movies, Speed's earliest adventures in comics are still easily obtainable in lovingly-made collected editions.
2. Initial D
One of the most popular teen sports mangas of the '90s was Initial D, which showed off Japan's car culture before Tokyo Drift. While more fans remember the hand-drawn 3D anime, the Initial D mangas can still be picked up in bookstores and online stores everywhere. Parts of the story are kinda messed up (like the protagonist's object of affection being an underage escort), but it's still about drift racing around dangerous mountain highways to lay claim as the G.O.A.T.
3. Marvel's Ghost Rider
Shifting gears (ha, get it?) from cars to bikes, Marvel's demonic superhero Ghost Rider was one of the most popular of the '80s and '90s. A stuntman turned henchman of Hell by the Spirits of Vengeance, Johnny Blaze rides on the Hell Cycle like the BAMF he is. His Marvel Knights mini-series, Road to Damnation — written by Preacher creator Garth Ennis — helped launch Ghost Rider's modern ongoing title. Jason Aaron's run on Ghost Rider is also recognized as a popular series for modern readers.
4. Marvel's All-New Ghost Rider
Felipe Smith helped create a new inheritor of the Spirit of Vengeance when he created Robbie Reyes, a Los Angeles mechanic who rides a hot rod instead of a hot bike. The current Ghost Rider, Felipe Smith's All-New Ghost Rider from 2014 and Ghost Rider from 2016 served as the basis for Robbie Reyes in Agents of S.H.I.E.L.D. and are absolutely worth picking up. Witness the hottest ride in the Marvel Universe.
5. Transformers
IDW has been publishing Transformers comics for some time, and though the never-ending war between the Autobots and the Decepticons is more melodramatic than indulgent, it's still transforming vehicles shooting the crap out of each other. No wonder Michael Bay's movies keep making billions of dollars.
6. Drive
A few years after Nicolas Winding Refn released his slick neo-noir picture Drive, IDW produced a neat, fittingly stylish adaptation in comic book form written by Michael Benedetto.
7. Motor Crush
Babs Tarr, Brenden Fletcher, and Cameron Stewart became a winning team on DC's Batgirl, and they banded together again for their own original comic for Image. What they've made is a neon-colored fever dream following a champion racer whose dark side to become faster quickly catches up with her.
8. Sons of Anarchy
Although the comic book adaptation of the popular FX series relies heavily on the show's continuity, fans of Sons of Anarchy should absolutely check out BOOM! Studios' brutally stunning companion series that ran for 25 issues.
9. Green Hornet
While the Green Hornet's sweet ride, the Black Beauty, is basically his own version of the Batmobile, the Black Beauty has never sold out its dignified design to become some kind of gaudy tank. The Black Beauty has only ever been two things: a 1966 Imperial Crown or a 1940 Lincoln-Zephyr. And in all Green Hornet media, the Black Beauty always manages to steal the show.
The Fate of the Furious hits theaters April 14, 2017.