11 Favorite Characters Who Should Return to 'Fast & Furious'
Before the new eighth movie, look back on faces we long to see again in this family.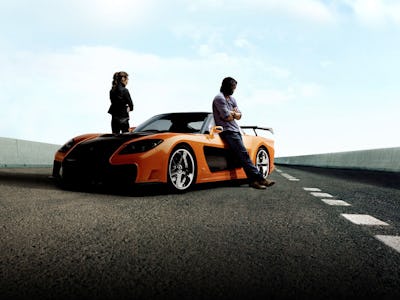 Universal Pictures
Another year, another Fast & Furious movie. The ongoing adventures of Dominic Toretto and his tight-knit band of car nerds continues in F. Gary Gray's The Fate of the Furious, in which patriarch Dom (Vin Diesel) mysteriously betrays his so-called family for a mysterious new player, Cipher (Charlize Theron). It's a dark turn for an ever-evolving franchise that has seen its highs and unfortunate lows.
To Dom, family is forever, but this family has seen more than its share of faces who have come and gone. Because of the series's escalating stakes, it's been a long, long, long time since anyone remembers how Dom and his crew stole DVD players and TVs from trucks in the streets of Los Angeles. (They might even go to space.) In 2011, the series entered into a new era with Justin Lin's Fast Five, which among its cast included the debut of Dwayne Johnson as Luke Hobbs, who has become a permanent fixture in the series.
Before The Fate of the Furious, let's look at the handful of characters fans long to see again, as well as underutilized characters in the series that deserve at least one more minute of action.
1. Monica Fuentes (Eva Mendes)
The hard-boiled cop and love interest for Paul Walker's Brian in 2 Fast 2 Furious was a one-off for the franchise's first sequel, back when the mere thought of a fourth or fifth or even eighth movie was nowhere near plausible. Mendes's career blew up after 2 Fast 2 Furious, which left her unavailable for more appearances save for a cameo in 2011's Fast Five. Dom could use more allies from his side of the tracks, so why not let Monica get in the action again?
2. Sean Boswell (Lucas Black)
Lucas Black is now the star of NCIS: New Orleans, but in 2006 he played a Southern teenager who learned the ways of drift racing in Justin Lin's underrated Tokyo Drift. He barely looked a day over 33 when he reprised his role for a cameo in Furious 7, which closed out the continuity gap that kept Tokyo Drift in its own weird dimension until Fast & Furious 6. While it's unconvincing that Sean would still a "teenager," the new Drift King deserves at least one more principal role to play in Dom's crew.
3. Leo and Santos (Tego Calderón and Don Omar)
While maybe the most expendable characters in Dom's crew, Leo and Santos rounded Fast Five with some extra levity in ways that the more prominent comedic leads Tej (Ludacris) and Roman (Tyrese) felt forced. These two are returning in The Fate of the Furious, but will they stick around for the future?
4. Suki (Devon Aoki)
Devon Aoki's 2 Fast 2 Furious character Suki, whose neon pink Honda S2000 demanded attention, was among Brian's crew in the sequel but has been M.I.A. for over a decade. Ever wonder what she's up to?
5. Bow Wow
After he matured into Bow Wow, the actor/rapper played Twinkie in Tokyo Drift as the friendly guide for Sean to navigate the new world of drift racing. Like the aforementioned Suki, Twinkie hasn't been seen or mentioned since Tokyo Drift (reused footage of his role in Furious 7 notwithstanding). Should Sean Boswell ever return, his pal Twinkie shouldn't be left behind either.
6. Takashi, aka "DK" (Drift King)
Like Lucas Black, Brian Tee was around 30 when he played Tokyo's most notorious teen street racer Takashi, also known as the Drift King. Even though Takashi got his ass handed to him, he still displayed enough skill to warrant a place on Dom's team. With Han gone as the team's drift expert, why not Takashi? Everyone loves a good redemption story.
7. The Girl (Minka Kelly)
Before Friday Night Lights, Minka Kelly was a no-name companion for Brian Walker in the short film Turbo Charged Prelude that bridged the gap between the first and second movies. I don't even remember if she was good at driving. I just wonder where the heck she's been all this time.
8. Jesse (Chad Lindberg)
The first major casualty in the franchise, Jesse won audiences over before being gruesomely gunned down by a rival gang. His death haunted Brian and Dom well into the next decade, but mention of him has been bizarrely absent. Even if it's a dream sequence, it'd be nice to see good ol' Jesse again.
9. Kamata (Sonny Chiba)
Somehow, these films got Sonny Chiba to play the perfect cartoon yakuza and it's a wonder why he has never come back for a more prominent role. Let him smoke cigars in Dwayne Johnson's face and let the bullets fly.
10. Han and Gisele (Sung Kang and Gal Gadot)
True love never dies. Han and Gisele, two perfect strangers who met and fell in love and died tragically in Fast & Furious 6, deserve one more appearance in the films even if it borders on the supernatural. I'll take them as ghosts. I don't care. I just want to see these two happy and together.
11. Brian O'Connor (Paul Walker)
The passing of Paul Walker hit Fast & Furious fans hard, precisely because these movies' themes of family resonate so strongly. James Wan's Furious 7 gave Brian and Paul Walker the goodbye he deserves without being distasteful, so it'd be wise to leave Brian behind for good.
But, however macabre it may be, constantly improving VFX technology means no actor stays out of work forever. (See: Rogue One.) While it'd take some tasteful-as-hell writing gymnastics for Brian to return, it's not an impossible task, and both of Walker's brothers have even revealed that Brian may return in the future.
The Fate of the Furious will be released on April 14, 2017.