Carrie Fisher Didn't Realize Leia Was CGI in Rogue One
by Monica Hunter-Hart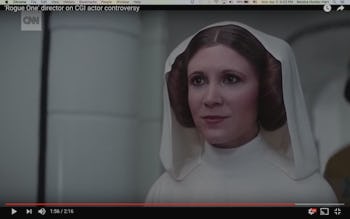 Photo via Disney
Rogue One's use of CGI to recreate Princess Leia's character received mixed reviews, but director Gareth Edwards has revealed new information to CNNMoney that may silence the critics. Incredibly, Carrie Fisher herself didn't even recognize that Leia's appearance involved computer graphics, he said.
Dare anyone to call the effect unconvincing now?
Fisher knew that her character would make an appearance in the film but apparently wasn't briefed on how it would be done. When producer Kathleen Kennedy actually sat her down to show her the scene, Fisher assumed she was watching old footage that she'd forgotten about. In her defense, it had been 40 years since she'd shot A New Hope back in 1976.
"Carrie watched it and thought it was real footage of her," Edwards explained. "She didn't really remember filming that shot. And Kathy had to explain, 'No, it's all computer graphics; they completely recreated you.'"
Edwards expressed regret that he'd never gotten to actually speak to Fisher about the scene himself before her death.
It's strange that Fisher didn't know that actress Ingvild Deila had been hired to act as her body double (after which the CGI completed the transformation). It's even more bizarre that she falsely recognized her own face.
Shout out to the Rogue One visual effects team, who received an Oscar nod but apparently deserved more. Well, for the Academy, snubbing science fiction movies is nothing new.