A Historical Look at Why Science Fiction Always Gets Screwed at the Oscars
How 'Arrival' stacks up in the sci-fi Oscar race.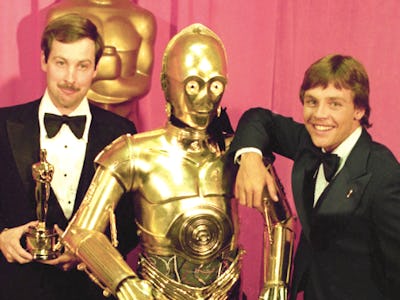 In 1978, the indisputably most popular science fiction movie of all time — Star Wars — was nominated for Best Picture at the 50th Academy Awards, but it lost to Annie Hall. Since then, very few science fiction films have been nominated for prestigious categories like Best Picture, Best Director, or Best Original Screenplay. This year, the sci-f movie Arrival is nominated for all three of those big ones, but if historical patterns hold, it doesn't stand a chance. The Oscar statue might look like the droid C-3PO, but the Academy Awards has a notorious track-record of dissing legit science fiction cinema. Let's take a look through Oscars history and see how dismal Arrival's chances actually are.
1969
Even though sci-fi rarely gets nominated for the big awards (and almost never wins) it does tend to clean up in technical awards like sound, special effects, and makeup. In 1969, artist John Chambers was just handed an Honorary Award in lieu of then nonexistent Oustanding Achievement in Make-up Oscar for the original Planet of the Apes. That same year, 2001: A Space Odyssey won for Best Visual Effects, which bizarrely is the only Oscar Stanley Kubrick would win in his entire career.
Like this year's Arrival, 2001 was an intellectual science fiction movie which had roots in sci-fi prose. Arrival is nominated for Best Adapted Screenplay because Eric Heisserer based the script upon Ted Chiang's "The Story of Your Life." In 1969, 2001 was nominated for Best Original Screenplay, since novelist Arthur C. Clarke co-wrote the script with Kubrick. Obviously, Kubrick and Clarke didn't win, and infamously, 2001: A Space Odyssey wasn't even nominated for Best Picture.
1969's 41st Academy Awards is a kind of patient zero for how respectable science fiction movies would be treated at the Oscars for the rest of time. The Academy had to acknowledge some good special effects and makeup, and at least give a shout-out to original writing. Science fiction received a pat on the head in 1969, but 2001: A Space Odyssey — maybe the best sci-fi movie ever made — didn't even get nominated for Best Picture. And, like 1969, 2017's intelligent sci-fi movie, Arrival, is pitted against an Oscar-bait favorite: the musical La La Land. In 1969, the musical Oliver! won Best Picture, Best Director, Best Score, Best Sound Mixing, and Best Art Direction. Clearly, the Academy prefers singing and dancing to thoughtful reflection on the meaning of existence.
1978
After the 1969 Oscars, 1978 is the next biggest historical moment for science fiction at the Oscars, if only because it hints at an alternate universe where sci-fi almost took its first step into a larger world of mainstream recognition. Before it generated constant fan speculation on the internet, Star Wars was simply a hyper-accessible and highly entertaining movie; it was the science fiction answer to The Wizard of Oz.
But, Star Wars didn't win Best Picture. Some fans of both fantasy and science fiction will cite the 2004 Best Picture win for The Lord of the Rings: The Return of the King as the compensation for Star Wars not winning in 1978 since Hobbits fighting off a dark lord is the closest thing to Jedi Knights and Darth Vader. But, the distinction between fantasy and science fiction is probably more clear at the Academy Awards than anywhere else in the zeitgeist, pulling Arrival's chance of winning further down.
1980 - 2009
The parade of sci-fi movies being nominated or winning in the Best Visual Effects category after Star Wars is so obvious it almost doesn't deserve mentioning. Alien won for Best Visual Effects in 1980, E.T won in 1983, Jurassic Park won in 1994, The Matrix won in 2000, et al. And other than a few upsets (Temple of Doom beat Ghostbusters in 1985) the vast majority of films that have taken the visual effects awards are sci-fi movies. But, in the early 2000s, this decidedly switched to fantasy or historical drama. Gladiator won in 2000, all three Lord of the Rings movies obviously won, Pirates of the Caribbean: Dead Men's Chest won in 2007, The Curious Case of Benjamin Button won in 2009, and so on.
2010 - Present
The second decade of the 21st century has been mostly sci-fi wins for effects. From Avatar in 2010 to Ex Machina in 2016, if there's one category science fiction can feel safe in, it's visual effects. The only problem a sci-fi movie will ever have in this category is if it's up against another sci-fi movie or a fantasy or historical drama. Notably: a Star Trek film has never won Best Visual Effects at the Oscars, and the franchise's most prestigious award nod was probably when Jerry Goldsmith was nominated for Best Original Score in 1980 for Star Trek: The Motion Picture.
2017's science fiction best-picture nominee Arrival isn't even up for Best Visual Effects, which, if tradition holds, actually probably helps its chances. Unless your film is a historical drama (like Titanic or Gladiator) or fantasy (The Lord of the Rings) being nominated for both Best Visual Effects and Best Picture probably means you're only going to win Best Visual Effects. Other than Sound and Sound editing, Arrival isn't nominated for any of the "nerdy" awards like Visual Effects or Makeup. Statistically, in the context of history at the Oscars, it makes Arrival not even seem like a science fiction movie.
The closest thing to a science fiction movie ever winning Best Picture was 2013's Argo. Because Argo has a faux-science fiction movie inside of its narrative, it succeeded in being a movie about movies, which like Birdman, is something that almost always does well at the Oscars.
That means that if Star Wars really had wanted an Oscar in 1978, Luke Skywalker should have been a failed actor, looking for the best role in the galaxy. And if Arrival does somehow win Best Picture, it will only be because someone at the Academy mistakenly believed that the Heptapods were silver screen hopefuls and Amy Adams was simply the casting director auditioning them for the greatest Hollywood movie about aliens making contact.