How DC's Green Arrow Aimed and Hit His Target in 2016
After a rocky start, the Green Arrow has never been sharper than now.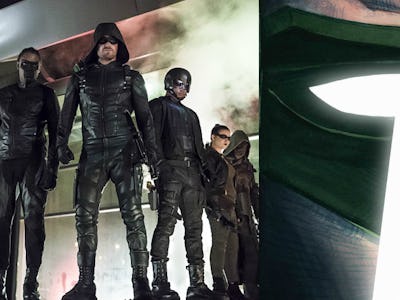 The CW, DC Comics
The emerald archer of DC Comics, the Green Arrow, has always been a progressive vigilante. A staunch opposite to the reluctant fascism in Superman and Batman's ego, Oliver Queen is a billionaire with a bleeding heart, but his most popular adaptation on the CW's Arrow has not always been in sync. After a frustrating Season 4 that seemed as if the series was off the rails permanently, a strong front-half comeback in its fifth season has reinvigorated the center series that created an entire TV universe. And in comics, the character has wholly embraced his identity as a social justice warrior.
2016 was a troubled year for DC's homegrown socialist superhero, and the election of Trump might not make his job any easier. But in the face of real fascism, perhaps the Green Arrow can inspire his fans to aim high in 2017.
TV
Although the Green Arrow isn't getting a movie like his super speed BFF, the Flash, he's on the verge of a resurgence after beginning 2016 sort of a mess. Fans did not like Season 4 of his TV series, Arrow. Its back half was especially erroneous, and many agree it was the show's lowest creative point. There's not one specific reason why, but any fan would tell you its storytelling priorities weren't in order. But all has been forgiven in red-hot Season 5.
After Oliver Queen's (Stephen Amell) victory over Darth Vader-lite Damien Darhk (Neal McDonough), the Green Arrow has taken in rookie vigilantes to mentor as he comes to blows with a new hooded monster, Prometheus. After the blockbuster crossover "Invasion!" the mid season finale of Arrow gave very, very strong hints to Prometheus's identity. But in the closing few seconds of the episode, it took a backseat to the shocking return of Laurel Lance (Katie Cassidy). There are, naturally, many questions: Is she really alive? Is she an alternate Earth doppelgänger? Is she from a different timeline? Fans don't even know where to start with their speculation, but her welcome return is only the last domino to fall in an autumn of enthusiasm for Arrow.
Comics
The New 52 wasn't everyone's favorite, but novelist and screenwriter Benjamin Percy knows the Green Arrow very well and wrote the character's last run — in a battle against Deathstroke — before DC's soft summer reboot, Rebirth. Now, in Percy's newest Green Arrow volume, Oliver Queen has returned entirely to his social justice cause in Seattle. Reunited with his true love, the Black Canary, the Green Arrow has already been betrayed and left for dead more times than anyone can count in the series's young but exciting run.
After teaming up with Black Canary his old pal Diggle on the island where his journey began, the trio have returned home to Seattle — after riding on a death-defying speeding train — in the recently-released Green Arrow #12. The new arc "Emerald Outlaw" has just begun, in which Benjamin Percy told Inverse will be like "The Wire meets Green Arrow", pitting the Emerald Archer against a Trump-like mayoral candidate.
2016 has been a return to roots for the Green Arrow, both on TV and comics. While Season 5 of Arrow has strongly emphasized the show's first season for its thematic storytelling, Percy's run on Green Arrow has purposefully recalled the legendary Dennis O'Neal and Neal Adams comics from the '70s, when and where Oliver Queen became a true social warrior. Fans of the Arrow should take comfort knowing that in 2017, their favorite superhero is aiming high.