George R.R. Martin Announces the Next Big Cinematic Universe
'Wild Cards' is the next project from the 'Game of Thrones' author.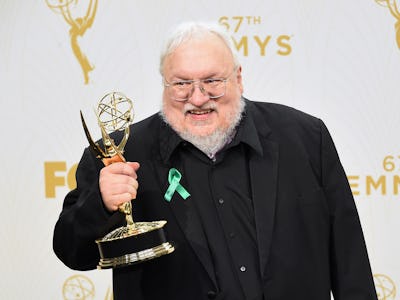 Getty Images / Jason Merritt
A new television project from the Game of Thrones author George R.R. Martin isn't actually a single series of novels. Instead, it's a large, interconnected universe called Wild Cards.
Martin announced on his blog that Universal Cable Productions has picked up the rights to adapt the anthology series Wild Cards for television. The series comprises a large tableau of novels, comics, and games all set in the same shared universe. The first Wild Cards novel was published in 1986 where it lost that year's Hugo Award to Alan Moore's WATCHMEN.
The series begins in an alternate-reality history where an alien virus was released over Manhattan on September 15, 1946. 90 percent of those infected by the virus died horribly as a result of drawing the "black queen". Nine percent became deformed and mutated into "jokers", while a fortunate one percent developed extraordinary powers and became "aces".
The series of interconnected fiction isn't actually written by Martin, but rather the Wild Cards universe is edited and overseen by author and his editor Melinda M. Snodgrass, who will serve as executive producer for the television series. The actual mosaic novels and anthologies are written by a collection of thirty authors known as the "Wild Cards Trust" who range from celebrated veterans to exciting new talents.
With a huge universe comprising of many different characters and stories, Martin writes that there is a huge collection of stories that UCP could conceivably adapt for screen. In fact, Martin argues that the Wild Cards universe rivals that of Marvel's and DC's when it comes to a stable of characters, stories, and mythos. Martin notes however that regardless of which characters end up adapted for television, viewers will no doubt encounter Croyd Crenson aka the Sleeper in some capacity as it wouldn't be Wild Cards without him.
Due to Martin's exclusive development deal with HBO, he himself will not be involved with the Wild Cards project. Instead, the previously mentioned Snodgrass and Gregory Noveck will oversee the expansive new venture.
There are currently 22 volumes in the Wild Cards universe published, with a 23rd volume set for a hardcover release later this month. Three more works within the universe are also currently planned.
Wild Cards is still very early in development and has no release date yet.