Disney Chief Says Marvel Is Another "Forever Franchise"
Disney's Bob Iger confirmed reports that we'll be getting more 'Star Wars' and Marvel movies than we bargained for.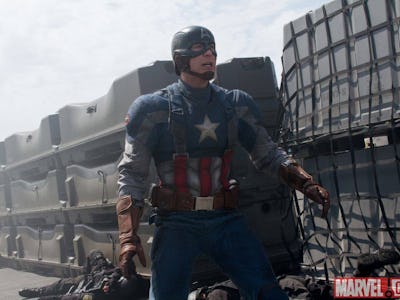 www.facebook.com/CaptainAmerica
We already know we're in store for many, many more Star Wars movies to come, but a new interview with Disney chairman Bob Iger confirmed that there will be many more Marvel superhero movies as well.
Iger told the BBC about Disney's current plans to continue the Star Wars saga even past director Colin Trevorrow's already announced Episode IX, set for release in 2019.
"There are five Star Wars films – four more with Episode VII: The Force Awakens – that are in varying stages of development and production," he told BBC's Newsbeat. "There will be more after that. I don't know how many; I don't know how often."
That number includes the announced standalone movies — including Gareth Edwards' Rogue One and Phil Lord and Chris Miller's Han Solo movie — and the next two official episodes in the Star Wars linear canon.
Iger's comments confirm a report from a lengthy cover feature by Wired from late 2015 where writer Adam Rogers claimed that "The company intends to put out a new Star Wars movie every year for as long as people will buy tickets." Rogers' feature continued by saying, "If everything works out for Disney, and if you are (like me) old enough to have been conscious for the first Star Wars film, you will probably not live to see the last one. It's the forever franchise."
But Iger's comments to the BBC also confirmed that Star Wars isn't the only forever franchise in the Disney ranks. The company's other big fantasy franchise, the Marvel Cinematic Universe, is likely to also continue on for a very long time.
"[With] Marvel, you're dealing with thousands and thousands of characters – that will go on forever," Iger said. When asked if he thought audiences would get bored of movies featuring grown men with superpowers dressing up in weird costumes and fighting each other he replied, "No, I don't think they're getting weary," and then added, "But I think we keep raising the bar in terms of telling stories that bring them back, that excite them, that make it feel new, and that is what we do for a living."
It should come as no surprise that, in Iger's words, Marvel movies will go on forever. These movies make an absurd amount of cash and Disney is in the absurd-amount-of-cash-making business. Echoing Iger again: It's their job and it's what Disney does best.
But Iger's comments seem bulletproof now because the Marvel and Star Wars movies are constant hits. What happens in five years when making multiple annual movies from these two mega franchises backfires? Will the box office grosses go on a steady decline with each passing installment just because they become another movie that happens in July and December? We'll give Marvel and Lucasfilm the benefit of the doubt of having already thought this through, mostly because they probably can't hear the critics right now since all the executives are probably swimming in their vaults filled with money.
Get ready for the next Marvel movie when Captain America: Civil War hits theaters on May 16, 2016, and the next Star Wars movie when Rogue One drops December 16, 2016. They're the first of many.