Netflix's 1989 trailer, plot, poster, cast, potential release date, and more
Netflix's follow up to time travel hit Dark is also set in the past.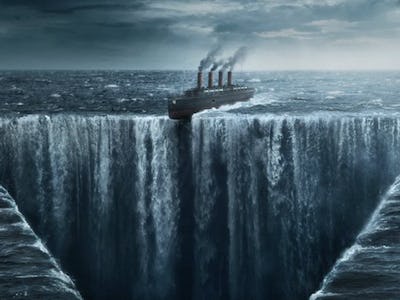 The minds behind the most well-thought-out and complicated show since Lost are headed back to Netflix, this time with a multilingual and multicultural mystery-at-sea. 1899, the follow-up to the German sci-fi time-travel epic Dark, promises a scale and scope even more ambitious than its predecessor, which was Netflix's first bonafide international non-English hit (yes, even before Squid Game).
Here's everything you need to know about 1989, from release date and plot to trailer and poster.
When is Netlix's 1899 release date?
The series 1899 has been in development since 2018. While it's been a long time coming, the wait is almost over. The mystery drama will be available to stream globally on Netflix sometime in Fall or Winter 2022.
(What's on Netflix reports that 1899's exact streaming release date will be November 24 according to insider sources, but that needs to be taken with a grain of salt.)
Invitees of the 47th Toronto International Film Festival on Sept. 13 will get a first look at 1899. The first two full episodes will be screened, with showrunners Jantje Friese and Baran bo Odar as well as actors Emily Beecham and Andreas Pietschmann in attendance.
While filming had only just started in April 2021, the process was already much further along thanks to groundbreaking cinema technology than it would have been if it were filmed traditionally.
1899 has a unique method of making its 122-year-old world a reality: its first season was filmed on a soundstage with an LED backdrop run with Unreal Engine. If that sounds familiar, it's because it's the same technology currently used to film Disney+'s Star Wars spinoff series The Mandalorian and various other projects from The Batman to Thor: Love and Thunder.
Known as the Volume, it's a state-of-the-art filmmaking method designed to make production easier as it doesn't require extensive location shoots. Instead, the locations can just be rendered and projected. However, some have criticized certain projects for relying too heavily on the Volume, which is still a poor replacement for practical effects.
"You literally take post-production and make it pre-production," creator Odar told Deadline. "Everything has to be decided beforehand, you have to create it, build it, so it's all ready to shoot in-camera."
Production for 1899 officially wrapped in November 2021.
Does 1899 have a poster?
Netflix unveiled 1899's official poster on Sept. 13, the same day as the show's screening premiere at the 47th Toronto International Film Festival.
"What we know is just a drop in the ocean. 1899, a genre-bending historical mystery thriller, is coming soon to Netflix," the announcement post states.
Is there a 1899 trailer?
Netflix quietly dropped a teaser trailer for 1899 this past June, which features familiar faces from the streamer's original series from around the world — Miguel Bernardeau of Élite, Lucas Lynggaard Tønnesen of The Rain, Yann Gael of Sakho & Mangane, and Andreas Pietschmann of Dark, among others — aboard the Kerberos, an eerie 20th-century migrant steamship.
What is the plot of 1899?
According to the creators Jantje Friese and Baran bo Odar, the series is a multicultural look at a diverse group of people traveling on a ship to New York at the turn of the 20th century when they encounter another ship adrift in the ocean, and things take a turn for the worse.
The official synopsis was released by Netflix back in 2018 when the show was first announced as part of an overall deal between the Dark creative duo and Netflix, and a more recent update, reveals that the voyage begins in London before travel itineraries go awry and their journey to the promised land becomes a horrifying nightmare. The second mysterious ship that the Kerberos passengers discover at sea leads to secrets that tie the past and present of each traveler together to unravel.
1899 is being billed as "chilling, cerebral, and dark" by the platform on the show's landing page. Season 1 of 1899 will be comprised of eight episodes. The pilot episode is called "The Ship."
What language is spoken in 1899?
We also know, based on the most recent official teaser trailer and one teaser trailer previously released last May, that this story will be multilingual, as both first peeks at the show feature lines in German, English, and Spanish. The IMDb page for 1899 notes that French, Polish, Danish, Portuguese, and Cantonese will also be spoken throughout the series.
International accessibility has been a major priority for Netflix recently, and films like Space Sweepers prove how multilingual media can work for a global streamer.
"1899 is pioneering in terms of its commitment to authenticity of language. It's exciting to be part of a truly international show. There will be points in the show where characters have problems communicating because of the languages – I don't think it's something we've seen before," Rachel Eggebeen, Netflix's director of International Originals, told Deadline.
Who is in the 1899 cast?
The cast for 1899 includes several Netflix alums and new faces to the streamer:
Alexandre Willaume (The Wheel of Time)
Andreas Pietschmann (Dark)
Aneurin Barnard (Dunkirk)
Anton Lesser (Pirates of the Caribbean: On Stranger Tides)
Ben Ashenden (Jurassic World Dominion)
Clara Rosager (Morbius)
Emily Beecham (The Pursuit of Love)
Gabby Wong (Rogue One: A Star Wars Story)
Isaak Dentler (Dark)
Isabella Wei (Our 4°c - Able World)
Jonas Bloquet (Elle)
Lucas Lynggaard Tønnesen (The Rain)
Maciej Musial (The Witcher)
Maria Erwolter (The Ritual)
Martin Greis-Rosenthal (Another Round)
Mathilde Ollivier (Overlord)
Miguel Bernardeau (Élite)
Richard Hope (Piece of Cake)
Rosalie Craig (MI-5)
Yann Gael (Sakho & Mangane)
Will 1899 be similar to Dark?
Dark is a unique show spanning three-to-four generations and even parallel universes, so it's difficult to imagine any show being similar.
Still, the creators have been able to draw some parallels between the two. Odar told Deadline: "Knowing that we did Dark, everyone can be assured that this is going to be something weird and wild and crazy, it's going to be a fun puzzle for the audience. We are going back to our mystery roots."
So don't expect any time travel, but definitely prepare yourself for a twisting-and-turning joyride across the Atlantic with major intrigue and lots of suspicion, with some culture shock and language barriers thrown in the mix to make things even more interesting.
1899 is sailing to Netflix this Autumn/Winter 2022.
This article was originally published on