Trailer for Key & Peele Movie 'Keanu' Looks Like a Brilliant 'John Wick' Spoof 
You've got to be kitten me.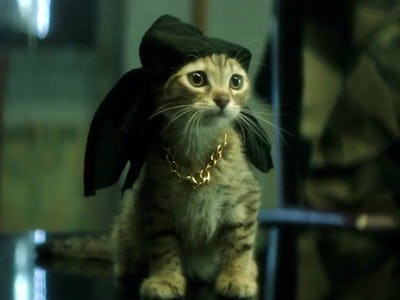 Comedy Central/YouTube
Keanu is the upcoming feature film debut from Key & Peele, and it's basically a John Wick spoof. Jordan Peele gets an adorable kitten to cope with his recent breakup. He names the furry friend Keanu. Because it's the great name of a great man. Like in Wick, of course, Peele loses his pet — alive this time, fortunately — so he recruits Keegan-Michael Key to recover Keanu from some gangsters.
Here's the trailer, released today by Warner Brothers:
Keanu looks like a fantastic movie. It's not some half-baked Austin Powers-style parody. It's simply taking John Wick as its inspiration and spinning it into a new comedy. Plus, look at Keanu. Just fucking look at him:
At Inverse we are big huge fans of John Wick, the Keanu Reeves-starring greatest film of all-time. We're constantly thinking about what the sequel, John Wick 2, may look like. We truly cannot get enough.
You're lying if you'd rather see the same recycled John Wick 2 casting news for the umpteenth time. That cat is much better than some news of Ruby Rose or Common as Wick 2 baddies.
That cat makes #OscarSoWhite a more compelling hashtag because, if that feline actor is left out of the 2017 Oscars conversation, heads will roll.
Keanu: Best Picture 2017.
Keanu: Best Actor.
Done.