'Key & Peele' Is Ending on Comedy Central After This Season
Even going out on top can be a dangerous move.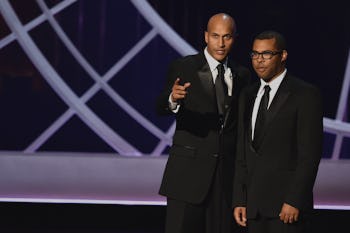 Getty Images
You'll only get one more season to see substitute teacher, Luther the Obama anger translator, Liam Neesons, and the East/West Bowl. Season Five of the popular Comedy Central sketch series Key & Peele will be its last.
This isn't some tragic case of misunderstood genius. Comedy Central hasn't pissed off a bunch of sketch comedy fans by cutting the show short and canceling it. Despite critical acclaim and consistently solid ratings, Keegan-Michael Key and Jordan Peele have decided to call it quits on their own.
"This is our final season — and it's not because of Comedy Central, it's us," Key told The Wrap. "It was just time for us to explore other things, together and apart. I compare it to Gene Wilder and Richard Pryor. We might make a movie and then do our own thing for three years and then come back and do another movie."
The comedy duo first met while cast members on the budget SNL ripoff MADtv, but started their two-man sketch show on Comedy Central in 2012. Since then they've won a Peabody Award, performed at the White House Correspondent's Dinner, and racked up a bragable amount of Emmy nominations.
They caught on because they were intelligent about their absurdities — and really, really funny. As the description for their Peabody Award says, "They tackle racially charged issues and ideas like no one else on television," and later, "They break new ground even as they lay claim to all of comedy's traditions."
Why quit now? For one, sketch shows go stale. Similar sketch-focused Comedy Central vehicles like Chappelle's Show and Kroll Show ended for a number of reasons, but mostly because their creators didn't want to dilute shows that were still fresh and powerful. Key and Peele tweeted thanks to fans and assurances that they will go on:
Key told The Wrap, "There will be Key & Peele productions coming up. We're doing the reboot of Police Academy, and there's a TV show in the works that we might do for Comedy Central. There's lots of stuff we have cooking up." They also have a deal with Paramount to adapt their "Substitute Teacher" sketch into a feature film, and have recently completed a new comedy called Keanu with Key & Peele director Peter Atencio.
Where will this put them? They want to move on to bigger and better things, but is a Police Academy reboot and a feature-length treatment of a single sketch really the best move? They're savvy guys, but it's still worth pausing to figure out whether they're cutting out too early. The undeniable allure of more money on less fruitful projects could be their downfall.
Then again, maybe we're just sad that we won't be able to see Wendell Sanders or Meegan again.