Making a Time-Travel Rom-Com Isn't Easy. This Movie Proves It.
Time Freak is a fun if slightly problematic take on the subgenre.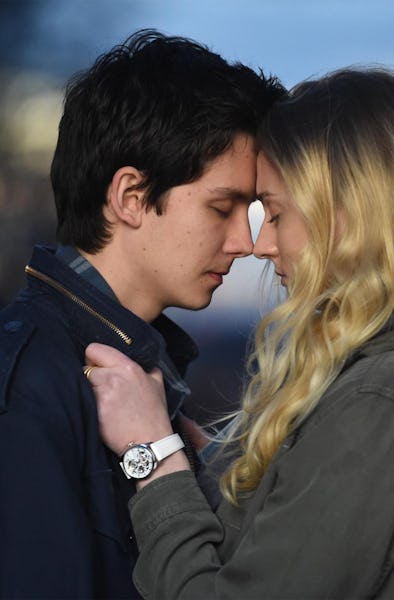 Lionsgate
It's hard enough to achieve the right balance of heart and humor a good romantic comedy requires, but it's the rare breed of movie that can successfully combine a rom-com with some narrative-tangling time travel. A few films have pulled it off before (About Time is an underrated standout of the subgenre), but there's another under-the-radar option worth checking out — while you still can.
Leaving Max on May 31 (if only someone could go back in time and convince the streaming world's grim reapers about the sheer stupidity of removing the name HBO), Time Freak tells a problematic love story without realizing how problematic it is. But among all the blatant red flags, Andrew Bowler's belated follow-up to the 2002 relationship drama The Descent of Walter McFea also boasts some charismatic performances, great one-liners, and at least a vague attempt to explain the metaphysics behind its convenient wormhole.
Fresh from another lovestruck sci-fi tale, The Space Between Us' Asa Butterfield stars as Stillman, a physics student so ingenious he's secretly invented a working time machine. But instead of attempting to right the world's wrongs or journeying through the history of mankind, the brainbox only utilizes his contraption for a selfish sole purpose: to fix the issues that caused girlfriend Debbie (Sophie Turner capitalizing on some Game of Thrones downtime) to unceremoniously dump him. "I've created what every broken heart wants," he proudly declares, completely ignoring the more far-reaching power he could wield.
Stillman is joined in his quest by best bud Evan, an Ultimate Frisbee-fixated stoner. Played by regular scene stealer Skyler Gisondo (Santa Clarita Diet, The Righteous Gemstones), Evan provides most of the laughs. "We could go back to wizard school," he suggests excitedly during the pair's first time-travel stop. "No. What? No, we can't go back to literary fiction," comes the fair reply. Evan seems bizarrely nonchalant about having his own life interrupted and dramatically altered by the whims of his obsessive friend, yet he's a much-needed foil.
Time Freak never really sells the notion its central couple are soulmates destined to be together forever, with Butterfield's youthful appearance an inevitable stumbling block. Even in Sėx Education, which premiered a year later, the Brit is still easily passing for a 16-year-old high schooler. In fact, before bartender Debbie reciprocates the flirting during an introductory flashback, you half-expect her to throw Stillman out for being underage.
But while its two leads share next to zero chemistry, the minutiae of their relationship does ring a lot truer. The moments Stillman chooses to relive aren't, on the surface, of a hugely significant nature. There aren't any major confrontations or life-changing incidents to course correct. Instead, the science whiz revisits various everyday microaggressions and slight overreactions, the kind which always inconveniently seem to re-enter your head while hitting the pillow.
So we're treated to the super awkward encounter where Stillman says those three magic words for the first time and Debbie bizarrely responds by grabbing her ukelele and performing a terribly twee ditty about a monkey. (Yes, whichever alternate timeline is being navigated, the manic pixie dream girl is well and truly still a thing.) And in the scene most relatable to film buffs, Stillman also repeatedly redoes the movie night when Debbie and pals mock a beloved Avatar-esque epic, hilariously trying and failing each time to mask his disdain for their "intergalactic suckfest" dismissals.
This ability to quickly reset things with the push of a button is the most fun of the many muddled time travel rules. As his BFF continually relives a romantic rooftop encounter, a nearby Evan is forced to continually relive the elevator ride from hell, some rapid-fire editing cleverly depicting his descent into near-madness. This approach is also deployed well in the opening teaser, a dinner table break-up where Stillman tries every last-ditch trick in the book to little avail. ("Debbie, I will never do better than you... You'll never do better than me... We will never do better than each other").
If all this sounds a little desperate and gaslighty, well it is. Stillman likes to think of himself as the quintessential nice guy. Yet his behavior is that of a possessive and controlling boyfriend who essentially robs Debbie of any sense of agency. When Time Freak powers forward two years from the present day, she's a shell of her former self, completely apathetic toward the music career she once craved (admittedly, no great loss), while also bored by the complete absence of conflict in her personal life.
There are the odd occasions when Time Freak appears to acknowledge the borderline toxic behavior of its supposed hero, something which shows little sign of abating even when his master plan appears to have worked. Unfortunately, unable to resist some form of a happy ending, it soon surrenders to the love-conquers-all cliché of the genre it had threatened to subvert.
Interestingly, Bowler's same-named Oscar-nominated 2011 short was more interested in petty dry-cleaning disputes than any romantic pursuits. With Gisondo and Butterfield's natural rapport undoubtedly more compelling than all the dubious lovey-dovey stuff, it's a shame this adaptation didn't follow suit. As a time travel rom-com, Time Freak doesn't really work. As a time travel bro-com, however, well, it's infinitely more charming than the Hot Tub gang.
Time Freak is streaming on Max through May 31.