Before Ocean's 8, a Bleak Heist Thriller Provided a Shot in the Arm to the Genre
Widows is about so much more than a heist, but it still introduced some strong female heroes.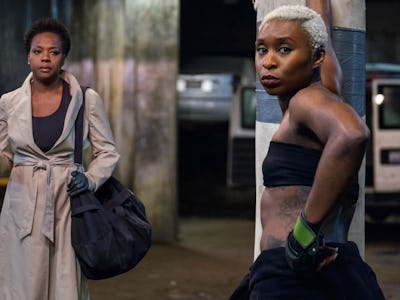 20th Century Studios
Widows served a staggering gut punch to the heist genre when it landed in theaters in 2018, and the brunt of its lesson hasn't softened much in the intervening years. Heists have always been defined by their glamour; by the secondhand glee we get from watching unlikely heroes become outlaws. But when Steve McQueen teamed with Gone Girl scribe Gillian Flynn to take his own swing at the genre, he came away with a story that's more like Set It Off than Ocean's 8.
That's all to say that Widows starts out hopelessly bleak. The heist that drives the film has very little to do with glamour or glee; instead, it's a matter of survival. Our mastermind, Veronica (Viola Davis), does not start out as a career criminal. That title falls to her late husband Harry (Liam Neeson), whose high-collar crimes afforded the couple a cushy, blissful life in Chicagoland. But when his last job goes terribly wrong, not only is Veronica left drowning in grief, but she's also caught in the web of corruption and politics that she was once so content to ignore.
It turns out that Harry pissed off a lot of people in his tenure as a thief. Though he and his team perished in their last heist, the $2 million they stole seemed to disappear with them. That nest egg belonged to one of Chicago's most ruthless crime families, the Mannings. If Veronica can't recover the money, she's as good as dead too — so she assumes her late husband's role and recruits his accomplices' widows to finish what they started.
Veronica's big score is tied to a tenuous battle on Chicago's political stage. The Mannings are working towards civic legitimacy: Jamal Manning (Brian Tyree Henry) is running for alderman in the South Side, and the $2 million Harry stole was meant to finance his campaign against his rival, Jack Mulligan (Colin Farrell). Jack is the heir apparent to a political dynasty. His father (Robert Duvall) was a big time power broker in the city — and he's sitting on a nest egg of his own. That makes the Mulligans the perfect target for Veronica and her unlikely team: abuse survivor Alice (Elizabeth Debicki), self-effacing Linda (Michelle Rodriguez), and Belle (Cynthia Erivo), Linda's steely babysitter.
While details of the heist are certainly complex, it's more like a means to an end for McQueen and Flynn. As the mind behind 12 Years of a Slave and Prime Video's Small Axe series, McQueen is consistent in his exploration of cruelty and caste. Widows is about so much more than a simple heist as a result — though with only $5 million on the line, it certainly is more modest than the capers most are used to.
If anything, Widows is a portrait of an ailing city, one that various gangs are still fighting for control over. Jamal and his brother-slash-enforcer, Jatemme (a chilling Daniel Kaluuya), consistently steal the screen from Veronica and her eponymous team. Their caper feels like it belongs in an entirely different movie, but Widows still works best when depicting our heroines' everyday struggles, like Alice's budding relationship with her sugar daddy or Veronica's complicated relationship with her late husband.
While the rapport between Veronica and her team never settles into an easy, breezy vibe (none of these women are really "girls girls," so fist-pumping feminism is in short supply here), Widows is still an effective character study. No one is looking for friendship, but that's what makes this film painfully realistic. They may be in search of the same things — retroactive revenge on their terrible husbands, money, and dignity, among others — but each of our heroines are very much on their own. Their partnership is one of convenience, and that's right in line with the tales of survival that McQueen typically explores.
Despite their tenuous bond, Veronica, Alice, and Linda each cultivate their own superpowers in Widows. There's an inner strength in each of these women, though neither were able to really cultivate it before, and for obvious reasons. Their quest for justice is not without suffering, but Widows may just be McQueen and Flynn's definitive take on the superhero movie. Sure, the lines are unmistakably blurred between the good guys and the bad — but that's exactly what makes this film such an underrated addition to its genre.
Widows is currently streaming on Amazon Freevee.