The All-Female 'Ocean's 8' Cast Is a Dynamite Lineup of Stars
Rihanna, Anne Hathaway, Awkwafina, Helen Bonham Carter, and Mindy Kaling? Sign us up.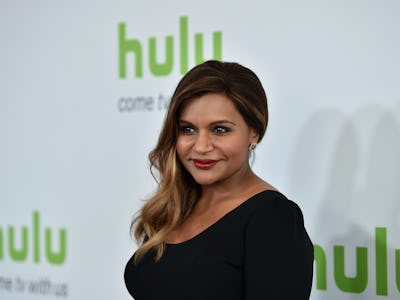 Getty Images / Alberto E. Rodriguez
Warner Brothers is rebooting the iconic crime-camper "Ocean's Eleven" as "Ocean's Eight," with an all-woman cast that looks absolutely incredible.
The studio announced today that Ocean's 8 will start production in October, and producers are nearing agreements with many of it's central cast members, including Anne Hathaway, Rihanna, Helena Bonham Carter, Mindy Kaling, and Awkwafina (aka Nora Lum).
Yeah, you read that right. WB has collected an eclectic collection of acting heavyweights, pop superstars, and talented comedians and is throwing them into a full-on heist movie anchored by Sandra Bullock and Cate Blanchett. We are all on board.
We've heard quite a bit about Bullock and Blanchett's involvement in the film, but Deadline* confirms that "deals are close" with the rest of the above listed squad. For those of you counting: Yes, that means that we're still one main player short of an eight-woman team, which implies we'll probably hear about a final cast member soon.
Though some may see the reports of Ghostbusters's lackluster box-office earnings dashing hopes of a sequel as bad news for female-driven Hollywood reboots, it's hard to imagine an all-female heist movie not being a damn good time. And with a varied, talented cast like the one WB is courting, the stage is set for a caper worthy of the Brad Pitt and George Clooney adaptation.
Details on the film itself are still scant, but it's worth noting that while we've seen plenty of framing of female-driven films in recent months as something of a "question mark," women at the forefront of blockbuster films isn't — or at least, shouldn't be — a one-shot deal. To assign some kind of broader meaning to Ghostbusters's numbers is reductive and silly. Just because one film failed to perform financially (despite critical success), doesn't mean similar casting decisions will go the same way.
All-female main casts in films are not all the same, the same way that not all reboots and intellectual properties are the same. To go ahead and state the obvious, Ocean's 11 and Ghostbusters are fundamentally different films. Beyond that, it seems unlikely that Oceans 8 will draw the ire of a vocal few with fragile, precious childhoods to protect.
Though Oceans 8 marks a number of firsts for reboots, for the franchise and for Hollywood blockbusters with all-female casts, it's also important to note that the idea of women heading up action films isn't new. Films like Tomb Raider, Kill Bill, Alien, and Charlie's Angels (a reboot in its own right) have all proved that women kicking ass and outsmarting all manner of foes is a pretty solid recipe for success. So let the naysayers naysay for now, and with casting announcements like this, our bets are on Ocean's 8.