'Ghostbusters' Set to Lose Over $70 Million and its Sequel
Paul Feig's reboot didn't do so hot, which could kill off chances for a sequel.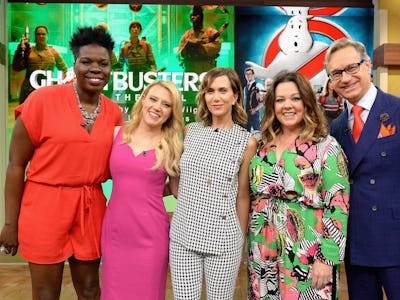 Getty Images / Gustavo Caballero
Director Paul Feig's Ghostbusters reboot tried to capture the spirit of Ivan Reitman's 1984 comedy classic, but it looks like the big-budget remake didn't meet expectations. THR is reporting that the film, which hit theaters in mid-July, will cost Sony $70 million in losses.
Feig's all-woman remake had a sizable $144 million budget, plus some added marketing costs, and the film's middling box office receipts haven't been able to offset those costs. So far, it's made just under $180 million at the global box office; it would need to get to $300 million to break even, which makes the already-announced sequels less and less likely.
Sony wouldn't comment to THR on whether or not the sequels are cancelled, but the numbers don't make it look good. Feig's Ghostbusters was meant to kickstart a whole new Ghostbusters universe, with the sequel, a new animated TV series, and an animated feature film planned alongside books, comics, and other cross-platform opportunities. But the tepid response to Ghostbusters has put the best laid plans in jeopardy.
Box office analyst Jeff Bock told THR, "Ghostbusters is on ice until further notice," and "I just can't fathom the creative talents behind it — Feig, McCarthy, Wiig, etc. — slogging out another one when the reception to the first one was so mediocre."
Feig, for one, recently made comments to the Huffington Post about not wanting to reboot another classic series, telling them, "No, no, no. No, I will not," and that "[Ghostbusters] was just too tempting because I knew we could do something with it that was exciting." Though Feig went on to say that he loved the experience on the first movie, the stress that stemmed from it could just as easily make him pass on the sequel.
To be fair, the Sony rep who to THR told the publication to slow their roll on the sequel mediocrity train, telling them, "We're very proud of the bold movie Paul Feig made, which critics and audiences loved," and that "It has enlivened a 30-year-old brand and put it into the modern zeitgeist. As a result, we have many ideas in the works to further exploit the Ghostbusters universe."
It's a nice bit of damage control, but Sony is going to have to find more lucrative ways to exploit" the universe if it want to create the ghostbusting empire it has envisioned. The reboot was confident enough to include a post-credits sequence all but guaranteeing that the new Ghostbusters crew will fight Zuul, one of the original movie's villains, in the planned sequel. We'll have to wait and see if that inter-dimensional demon — and the new Ghostbusters — get a second chance on the big screen.