Kill Boksoon is a Seamless Blend of Thrilling Action and the Struggles of Parenting
What if John Wick had to go home to their grumpy teen every night?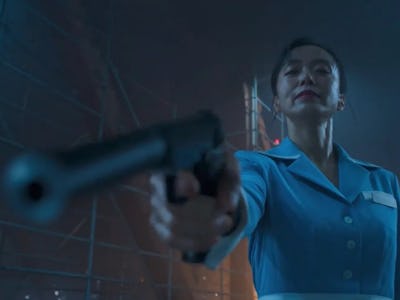 Netflix
Life as a working parent is hard. That's the thematic foundation of Netflix's Kill Boksoon, a kinetic, emotionally grounded Korean action drama starring 50-year-old Jeon Do-yeon (Crash Course on Romance) as Gil Boksoon, the mother of a teen daughter and a career assassin.
When we meet Boksoon, she's spent the last three decades killing and has become good enough at it to earn the nickname "Kill Boksoon," even if she's past what society has decided is a woman's prime. She may break a sweat when she takes down a yakuza in the film's opening, but she still has the breezy confidence to deliver the requisite action hero quips. Off this scene alone, it might seem like viewers are in for two hours of familiar albeit stylish plot beats. But Kill Boksoon ends up being so much more than that.
Boksoon thrives in the workplace, but she's not as confident with her role as a single mom. To be fair, it's a much more complicated job. She makes enough money to grant 15-year-old Gil Jae-young (The Silent Sea's Kim Si-a) access to a fancy private school. But when Jae-young stabs another student with scissors, Boksoon fears she's raising a killer. She isn't, but the film takes Boksoon's doubts that she's a good mother seriously. It's this equal commitment to our hero's domestic drama that makes Kill Boksoon work so well, subverting enough staples of the professional killer film to keep viewers guessing where this is all going.
While TV shows about spies and assassins tend to give a protagonist's domestic life equal narrative focus, feature films, with their limited runtimes and larger budgets, tend to zero in on the blood and excitement of a character's professional world. In Kill Boksoon, however, Jae-young's refusal to let her mother in is treated as cutting as when Boksoon is literally slashed with a knife, because to Boksoon it is. The result is a more grounded story than one might expect from a film set in an alternate universe where a consortium of Seoul-based killing companies meets weekly to ensure everyone follows industry best practices.
Kill Boksoon is Jeon Do-yeon's film, and the acclaimed actress more than earns it. Director Byun Sung-hyun approached Jeon with neither script nor scenario; he just knew he wanted to work with her. Once she accepted the project, Byun built the story around the actor. Jeon has never killed anyone, but she is a mother and a longtime worker in Korean media; an industry that can feel like a high-stakes, corporate-controlled headache. Finding balance can be difficult.
To write the film, Byun took his laptop to Jeon's house to observe the actress and her real-life daughter interacting. From there, he wrote a story about Jeon Do-yeon's life as a mom and actress. Jeon just happens to play a killer in it. The movie's emotional climax therefore comes not in a brutal fight to the death (though there are many of those), but rather a candid conversation between mother and daughter. For Boksoon, it is much scarier.
Kill Boksoon isn't just an action film, but it is an action film, and a good one. Its fight sequences are kinetic, clever, and often beautiful. The best one takes place in a pub filled with professional killers. One moment, the colleagues are enjoying a friendly dinner and drinks, and the next they're at one another's throats, grabbing pots and pans, kitchen knives, and chilled produce to strike and defend. The action is frenetic but logical, and it sometimes slows to tell us something new. Halfway through the fight, for instance, Boksoon dodges a chair. Its wood splinters into the air around her as she spins to prepare for the next move, all in slow motion. There's a smile on her face, the splinters falling around her like confetti. She's in her element, even when she's fighting people she ostensibly cares about. It's cinematically glorious, and it serves a character purpose.
Even the worst action sequence, a frenetic gunfight between Boksoon's boss Cha Min-kyu and a bunch of Russian thugs that's too reminiscent of Kingsman's church fight to impress, features beautiful cinematic choices. Cha Min-kyu (Sol Kyung-gu) and his attackers fight in silhouette, snow falling through an open skylight. Byun understands that faster, bigger, louder, and bloodier doesn't always mean better. There is horrifically gory violence — at one point, Cha Mik-kyu bashes a colleague's face in with only a knife handle and rage — but Byun has a diverse directorial toolbox, and he employs those tools with precision.
Consider Byun's use of a gimmick that allows the viewer to see inside Boksoon's mind as she plays out possible scenarios. Because the tactic is used sparingly, we rarely suspect we're in Boksoon's head until something unfortunate happens and we backtrack to an earlier point. It shows how calculating Boksoon is both on the job and as a mom, as the interiority is used for tense emotional conversations too. A lazier film might employ this element constantly, undercutting the tension in the process. Kill Boksoon, with its versatile lead and skilled director, doesn't need to rely on cheap tricks.
If you're looking for pure action, Kill Boksoon might not be for you. But, if you don't want to choose between emotional complexity and meticulous fight choreography, you just found your Friday night plans.