Empire State Featured the Rock Before He Became a Bore
It's not a classic, but it mercifully didn't try to become a franchise either.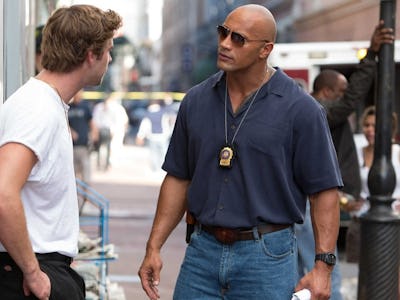 Netflix
There are plenty of action movies on Netflix. There are plenty of heist movies on Netflix. There are plenty of crime thrillers on Netflix. But only one movie on Netflix represents a crucial point in recent cinematic history: the shift from straightforward heist movies to the Marvelization of the action genre.
2013's Empire State was directed by hardcore punk singer turned model turned author turned director Dito Montiel, whose directorial debut was about his own fascinating life. Liam Hemsworth plays Chris, a security guard who finds himself face-to-face with the perfect crime in 1980s New York.
Based on a baffling true story that felt destined to be a movie, Empire State follows Chris and his friend Eddie (Michael Angarano) as they discover that Chris' new gig at an armored car depository leaves millions of dollars unaccounted for during his watch. Don't expect a slick heist; this is a movie about clueless people who can't resist an opportunity dangling in front of them. It's also a fascinating portrait of the Greek community in the Bronx, borrowing imagery from Tarantino and The Sopranos.
The most notable cast member isn't Hemsworth, but Dwayne Johnson, who plays the NYPD detective set on catching Chris. Empire State represents a strange chapter in Johnson's career post-The Game Plan and The Tooth Fairy, but pre-Hercules and Baywatch, when he'd just outgrown Disney and started stepping into action hero roles. He wasn't yet the behemoth box office draw he is now, but he was big enough for supporting roles in G.I. Joe: Retaliation and Fast Five.
That's a microcosm of where this movie stands in history. It's not in the 2000s heyday of action and heist movies, but it's not in the late 2010s rise of flashy high-budget blockbusters either. Empire State faced criticism for suffering from an identity crisis, but it's more accurate to say the market was confused, and the movie played into it.
Sure, there are some weak spots, but Empire State is a relic from a time when a movie could attempt and almost succeed at being in multiple genres at once. Now, in a franchise world, it feels like every blockbuster is engineered to target one specific audience. But this movie lets the drama, goofiness, and violence fly in equal measure, so no matter who you are, you'll find something to enjoy here.
Empire State is the kind of movie that made Netflix the streamer it is today: mid-budget, action-packed, unprestigious. Today, Liam Hemsworth is preparing to become the new face of The Witcher while Dwayne Johnson prints money and mediocre superhero movies. But in 2013, neither was above taking on a hard-to-describe action movie that wasn't blessed with any promotional power beyond the fact that we used to watch movies like it.
Empire State is streaming on Netflix until April 30.