An Obscure French Thriller Is One of the Best Sci-Fi Movies Hiding in Netflix's Catalog
Claustrophobic terror combines with actual science for an innovative adventure.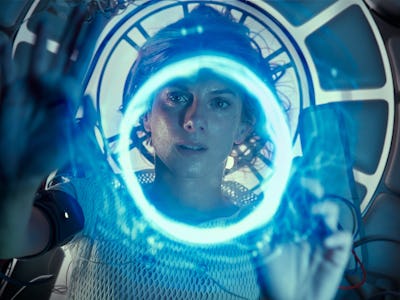 Netflix
Banking on a gimmick is one of the biggest risks you can take when making a film. Some gimmicks, like Clue's multiple endings, age well. Others, like the woeful computer-screen horror movie Unfriended, aren't as successful. But if managed well and not used as a crutch, a gimmick can set your movie apart from the pack, especially in an age where it's on a virtual shelf alongside thousands of other titles.
One 2021 movie had a great gimmick, a fabulous plot, and perfect timing, but still didn't get the praise it deserved. Here's why you should watch it, and do your part to keep it from falling into "forgotten gimmick" oblivion.
Calling Oxygen a long time coming is an understatement. In 2017, it was announced with Anne Hathaway as the lead character. In February 2020, Noomi Rapace replaced Hathaway. Mere months later, a third and final actress was given the lead: Mélanie Laurent.
The gimmick is the extreme focus on its cryogenic chamber setting. There are flashbacks and an epilogue set elsewhere, but the camera is usually fixed on Laurent's face, in a showcase of her acting talents and director Alexandre Aja's skill in working with such limited space.
A woman named Liz wakes up in a coffin-like medical unit with no way out, no memories, and a dwindling supply of oxygen. Her only ally is a Siri-like A.I. assistant known as Milo, but even with his help her origin remains a mystery, at least until she realizes that a horribly contagious disease has ripped through Earth, and that she's part of a plan to save humanity.
Oxygen is a claustrophobic thriller, without any need for extreme action or car crashes to make its thrills known. It plays upon a universal fear: being unable to survive in a situation where there's no obvious way out. It also became an accidental examination of the pandemic, and how it changed us.
If the gimmick isn't enough to convince you, the script is as airtight as Liz's chamber. The pace never feels too slow, and it's never as boring as "a woman tries to get out of a box." It all leads to a shocking twist that gives the frantic buildup the perfect conclusion.
Oxygen has fallen into obscurity since its release, but it deserves a resurgence. It should go next to movies like Gravity and the "Beyond the Sea" episode of Black Mirror, which explores the loneliness and claustrophobia of space travel. It certainly deserves better than being shoved in Netflix's back catalog, never to be seen again.
Oxygen is a story of human resilience and, on a different level, what makes us human in the first place. In a world still reeling from a pandemic of its own, it's a thrilling yet reassuring ride that's a balm for any lingering feelings of dread.
Oxygen is streaming on Netflix.