Good dystopias and good romances are rare. A 2015 oddity managed to provide both.
This black comedy goes in some weird directions, and you're along for the ride.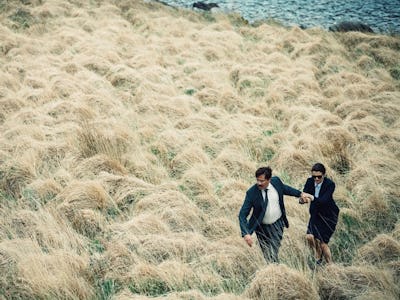 Countless movies have tried to create a dystopian world that satirizes our current one. Maybe the satire is explicitly political, like in The Hunger Games, or more comedic, like in Idiocracy. But every dystopia relies on exaggerating existing issues to fantastic heights, which often leads to some less-than-nuanced worldbuilding that's at best on-the-nose and at worst like being hit on the head with a hammer.
One movie, however, exaggerates modern culture in such a minimalist, understated way that it feels like a bedtime story or a classic fable. It's absurd and twisty, and it just landed on HBO Max.
The Lobster, directed by Yorgos Lathimos, made a splash in 2015 with a story unlike any other. It's part love tale, part satire, and part art-house statement piece. It follows a man as he enters a state-run hotel for a mandatory program where single people are given 45 days to find someone to spend their life with or be transformed into an animal. But it's not all bad: you get to pick the animal.
The Lobster actually borrows several elements from its fellow newcomer to HBO Max, The Banshees of Inisherin. Like Banshees, The Lobster was filmed in Ireland, giving the film a lush atmosphere. Both movies are hard to define; there are plenty of jokes, but also brutal sequences of self-harm. Perhaps the biggest similarity is their star, Colin Farrell, who's undergoing quite the renaissance.
Farrell gives an all-time performance as David, the mild-mannered mustachioed protagonist who follows the hotel's many rules. He sits unassumingly as happy couples lead propaganda sessions, rule breakers get their hands stuck in toasters, and maids offer mandatory sexual favors.
But he's soon reminded that, in his society, romance is a matter of grave importance. Accompanied by his brother, who is now both a dog and a constant reminder of the cost of failure, he sees a man smash his face into a table to convince a woman with chronic nosebleeds they have something in common.
After a failed attempt to change himself for someone else, David escapes to a nearby forest where a group of "Loners" live in hiding from the hotel's residents. The single Loners are ostracized to the point of being hunted, but David meets a short-sighted woman (Rachel Weisz), and sparks fly, even though the circumstances are far from ideal.
The Lobster is the weirdest love story you'll ever see, but its main focus is on the alienation and commodification of romance in western society. In the age of dating apps, romance has been reduced to its barest form, a sterile line of potential partners. It's a message communicated through some bizarre moments and a heartbreaking (and delightfully confusing) script. It grabs you and won't let you go as it drags you through every sparsely composed shot and strange plot twist.
The Lobster is now streaming on HBO Max.