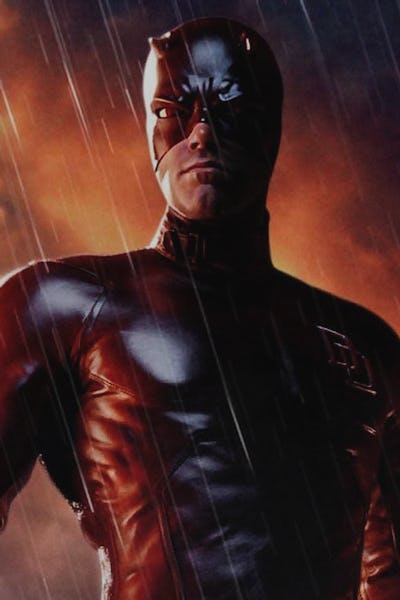 "I hate Daredevil so much."
'Daredevil' turns 20: Ben Affleck, Bullseye, and bad CGI
Released 20 years ago in February 2003, 'Daredevil' is a fascinating relic of a messier era in Marvel history. It's also a terrible movie.
Daredevil was so bad that not only did it turn Ben Affleck off superhero movies but it also brought the Oscar-winning actor back to them. The actor's failed foray into the Marvel universe is one of the darkest chapters in comics history, so much so that Affleck brought it up unprompted in a 2016 interview about his starring role in Batman vs Superman.
"Part of it was I wanted for once to get one of these movies and do it right — to do a good version," he told the New York Times in a since-deleted video (via Collider). He added: "I hate Daredevil so much."
Released 20 years ago in February 2003, Daredevil is a fascinating (if unwatchable) relic of a messier era in Marvel movie history that almost seems impossible in the age of the interconnected cinematic universe.
I'll only bore you with the broadest of strokes. Daredevil was written and directed by Mark Steven Johnson (who would return to the Marvel universe four years later for another major misfire in Ghostrider). It stars Affleck as Matt Murdock, a blind lawyer with superhuman agility and sonar hearing; Colin Farrel as Bullseye, an assassin with abnormally precise aim; Jennifer Garner as the assassin (and love interest) Elektra; and Michael Clarke Duncan as mob boss Wilson Fisk (aka, Kingpin).
The plot revolves around Murdock's connections to the mob via his father, a plot to frame him for murder, and Daredevil's predilection for leaving giant puddles of gasoline in the shape of the letter "D" at the scene of the crime. There's also a climactic fight scene in a church featuring some truly terrible CGI where Bullseye uses a pipe organ to his advantage — loud noises turn out to be Daredevil's kryptonite.
In an interview a decade later, Johnson didn't deny the many issues with his movie.
"It was only my second movie, and my first was so small," the writer/director told ComicBookMovie.com. "This was learn-as-you-go."
Johnson also commented on the film's slapdash special effects, admitting that he was originally aiming for a more grounded story. If you're wondering why we didn't get that movie, well, you can blame Peter Parker.
Here's Johnson again:
"Some of the effects weren't as good as they could have been because of the rush. Daredevil isn't Spider-Man, X-Men, or The Hulk. Most people never heard of it. So there won't be awareness for it like those movies had, which, for me, was cool, because I got to make something a darker character piece. In the middle of shooting, the Spider-Man movie came out and was, of course, huge so the studio wanted more big moments in Daredevil, which isn't the way the movie was constructed. But I do think that, sometimes, the movie jumps from a dark brooding film to a poppy Spider-Man type."
Of course, in 2003, most audiences didn't bat an eye at PlayStation 2-level special effects (back then, the PS2 was still in its prime). Rather, it was Ben Affleck's star power that detracted from the experience of seeing this beloved cult superhero brought to life on the big screen.
Years later, when asked if the movie could have been done without Affleck, the director replied succinctly (and perhaps a bit wearily): "Sure."
As for the actor himself, Affleck clearly isn't proud of his performance — or of the movie he made. But at least he can rest easy knowing that Daredevil survived the ordeal. Over a decade later, when Netflix and Marvel teamed up for a Daredevil show in 2015, it seemed the curse was finally broken.
"The Netflix show does really cool stuff," Affleck told The New York Times in 2016. "I feel like that was there for us to do with that character, and we never kind of got it right."