Andrew Yang's Surprising Staying Power
How long can Yang stay in the game?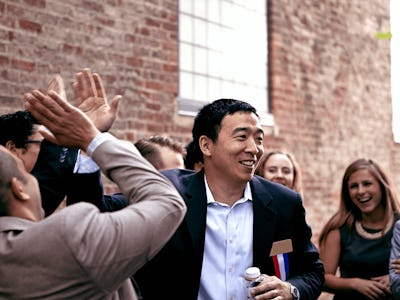 Andrew Yang
Andrew Yang, the entrepreneur and Democratic presidential candidate who wants to give you $1,000 per month, has been running one of the most interesting campaigns of the 2020 election.
Seemingly out of nowhere, an online army of Yang devotees who call themselves the #YangGang became a forceful presence on social media earlier this year, and it doesn't look like they're going to lose steam any time soon.
Yang will be in Wednesday's Democratic presidential debate, and he's already qualified for the next debate.
In the polls, he tends to hover around two or three percent. That said, the #YangGang excitedly got #YangBeatsTrump trending on Twitter on Tuesday when a poll from Emerson College found Yang beating Donald Trump by eight points in New Hampshire.
In a new interview for the New York Times' podcast, host Michael Barbaro discusses Yang's unexpected rise with Times technology writer Kevin Roose, who was one of the first to learn Yang would be running for the highest office in the land, and initially described his candidacy as a "longer than long-shot" campaign. Roose admits he got that one wrong.
Yang is interviewed on the podcast, and he says what people missed when they assumed he would never get anywhere in the polls is a "general explanation for why Donald Trump won in 2016." Yang says the real reason Trump is president is we've been automating away millions of jobs for years and Americans are hurting because of this.
This focus on automation is critical to understanding Andrew Yang. It's why he started his campaign. Yang supports implementing a Universal Basic Income (UBI) — essentially just giving every American $1,000 per month — to combat the negative effects of automation. Yang has rebranded it the "Freedom Dividend." If people can't get enough work because the robots are filling positions previously occupied by humans, then give people enough money to help them survive. That's the idea.
That said, I would be remiss to portray Yang as a single-issue candidate. Yang's website features an incredible amount of policies. He covers everything from Medicare for All to modernizing voting to tackling the veteran suicide epidemic.
If Yang is thought of as a single-issue candidate, that's at least partially his own fault, because he tends to spend most of his time talking about the Freedom Dividend.
Something Yang's supporters seem to love about their candidate is that he's unconventional and, frankly, a pretty funny person. On Tuesday, Yang was suggesting on Twitter that he might wear a gold chain to tonight's Democratic debate.
During the Democratic debate in July, Yang joked that he's the opposite of Donald Trump because he's "an Asian man who likes math."
Yang has also routinely criticized the election process and how the mainstream media covers it, saying it's treated like a "reality TV show." Trump is surely guilty of treating it this way, but he's really touching on a problem that predates his presidency. Too often, cable news pundits care more about ratings than substance.
In this interview with Inverse last year, Yang expressed how seriously he takes the issue of automation and Americans losing their livelihoods.
"As a society, we have not advanced far enough to help make these developments positive for the affected people, but we can get there," Yang said. "We need to get there. The alternatives are very, very dark."
In that interview, Yang compared automation to climate change. He said that if you go to towns in the Midwest that have been devastated by the effects of automation, you can see this threat as clearly as you can see how climate change is threatening us when you go see a melting glacier.
We know Yang has tonight's debate ahead of him and one more after that. Whether or not he'll continue to qualify for debates remains to be seen.
What is clear is Yang has tapped into something that candidates of the past and present have not adequately addressed. Reports indicate about half of the tasks being done in the workplace right now could be done by robots by 2025.
"The next wave of economic dislocation won't come from overseas. It will come from the relentless pace of automation that makes many good, middle-class jobs obsolete," said former President Barack Obama during his outgoing address in January 2017.
At least a quarter of all jobs are at a high risk of being completely automated soon. If we don't prepare for the effects of this, we are asking for a lot of misery, desperation and instability. More politicians need to start planning for a future with much fewer jobs.