14 Home Essentials You Need Now
Update and upgrade your nest with these must-have home items.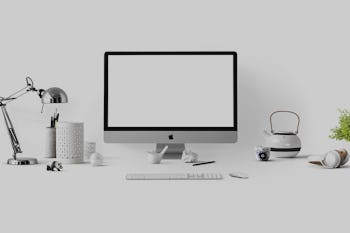 Pixabay
'Tis the season for spending all your time at home. When it's too cold to go out and too cold to dress cute, you might as well take up the new hobby of home decoration rather than melt your brain with 9 hours of screen time a night. Your friends and family will live in awe of your seemingly overnight transition into complete adulthood and you'll start to look and feel wealthy instead of unintentionally minimialist.
Maybe you've had the same pillows since 2008. Maybe you are really bad at remembering to vacuum on any kind of regular schedule. Maybe you've had a fantasy for the last decade about finally making your expensive coffee beverage at home. Whatever your reason, it's the season of spending money and I assure you that in the midst of it, you owe yourself a treat. Allow it to be a treat that takes your home one step closer to a feature in Architect's Digest.
Adoric Hypoallergenic Bed Pillows - 2 Pack
Why We Picked It: You probably don't even know how old your pillows are. That may be presumptuous, but seriously when was the last time you went out of your way to purchase a new pillow for the bed you sleep in every single night? Each of these pillows is filled with 22oz of 6D polyester to ensure stable support for head, neck and back. Stop waking up more sore than you have to.
Price: $28.99
Instant Pot 7-1 Multi-Use Programmable Pressure Cooker, Slow Cooker, Rice Cooker, Steamer, Sauté, Yogurt Maker and Warmer
Why We Picked It: If you've ever thought about getting an Instant Pot, now's the time. You never know when the restaurant is going to have a two hour long wait or your friend's apartment suddenly has to be fumigated. Rather than slave in the kitchen on the off-chance that a hosting opportunity arise, welcome the Instant Pot into your life. In an instant, prepare any one-pot meal, make a whole vat of rice to go with a quick stew or literally anything else you can think of considering this true multi-tasker has 7 settings to choose from.
Price: Usually $99.95, now 10% off, $89.95
KitchenIQ 50009 Edge Grip 2 Stage Knife Sharpener
Why We Picked It: Everyone knows that the difference between a great knife and a mediocre knife is how sharp it is. Without having to spend your rent money on a critically acclaimed knife, opt for this knife sharpener. Your knives and your cooking will thank you. Have peace of mind with the patented Edge Grip, which will assure that your sharpener isn't slipping while in use.
Price: $5.99
Creative Co-Op Set of 4 Coasters
Why We Picked It: Give the gift of a battle won to your mother this holiday season. Show her you listened all along and that you do know the importance of coasters in your new found adulthood. Any drink looks better rested on wood and marble. If not for your mother, do it for your Instagram.
Price: Usually $14.99, now on sale for 20% off, $11.99
Le Creuset Stoneware 10-Inch Spoon Rest
Why We Picked It: If you're a cook, you know how annoying it can be to find a place to rest your spoon that isn't going to create a mess for later. Rather than continue to live in relative annoyance, opt for this Le Creuset spoon rest. It's dishwasher and oven safe—though I don't know why you'd ever put it in the oven—so any mess accrued on it will just wash away. It's available in 7 gorgeous colors for any style or kitchen. And like any Le Creuset item, you'll have it forever and everyone will live in awe of your good taste.
Price: $25.99
Calphalon Pre-Seasoned Cast Iron Skillet - 12 Inch
Why We Picked It: There is nothing like cast iron. You will not get a better sear or a better fry in anything else. Cast iron retains heat better than any other kitchen material, though it does take slightly longer to heat evenly. If dish washing isn't your thing, you'll love the addition of cast iron to your arsenal because a well-seasoned pan requires nothing more than quick wipe with a damp towel.
Price: Usually $49.99, now on sale for 49% off, $25.49
Bissell Pet Hair Erase Turbo Upright Vacuum Cleaner
Why We Picked It: If you're not a seasoned and well-trained homemaker, you probably don't think your carpet is as dirty as it is. Step into instant satisfaction with a new love for vaccuuming. Go ahead, vacuum one square foot, you'll see the difference. Every household needs a good vacuum.
Price: Usually $229.99, now on sale for 22% off, $179.00
Zinus 14 Inch Platform Bed Frame
Why We Picked It: It's time to get your mattress off the floor. Enough is enough. You've read the Twitter opinions. You know what it means to be a grown man with your bed still firmly planted on the floor. Maybe your knees are starting to get a little angry at you for trying to get up off the ground every morning. Just suck it up, you need a bedframe and it doesn't have to be expensive.
Price: Usually $79.99, now on sale for 22% off, $62.21
Mr. Coffee Cafe Barista
Why We Picked It: What if you spent $100 all in one shot rather than spending it every 3 weeks? What if you could save your Starbucks money for something else? What if you were finally the type of person able to craft their own specailty beverage in their home? Talk about aspirational. Reach your goals with this 3-1 espresso, cappuccino, latte maker and milk frother. Amazing.
Price: Usually $199.99, now on sale for 50% off, $99.99
Holsem Air Fryer - 3.4 Qt Capacity
Why We Picked It: Air frying is all there is to the future. Health nuts have demonized oil so much, there is no guilt free way to consume it anymore. Rid yourself of guilt with the oil free fryer, baker, steamer, griller, roaster and defroster. There's no room for a unitasker in a kitchen anymore.
Price: Usually $100.09, now on sale for 39% off, $69.49
ECOVACS Deebot 601 Robot Vacuum Cleaner with App Controls
Why We Picked It: Again, not everyone loves to vacuum but everyone has to vacuum. Take the actual motivating yourself to do a task out of it and allow the fully automated future to take hold in your home. With unique S-Shape Systematic Cleaning Path, you'll find your space cleaner than when you left it. And unlike all the other devices you've welcomed into the fold, this one takes itself back to the charger with auto-return and charging.
Price: Usually $399.98, now on sale for 50% off, $199.98
Phillips Hue White and Color Ambiance Smart Light Bulb Starter Kit
Why We Picked It: If you've ever been in a room where the lighting just isn't right, you know how frustrating that can be, especially if you're a migraine sufferer, like me. With these smart light bulbs, you can choose for 16 million colors and shades of white for any mood or migraine you could have. And with voice activation possibilities, the throes of a migraine can no longer render you incapable of finding relief, yell at your lights to turn off and they will.
Price: Usually $149.99, now on sale for 33% off, $99.99
Whitmor Woven Strap Storage Baskets - 3 Pack
Why We Picked It: Your coat closet is a mess. You bought that Ikea shelf nearly 3 years ago now and you still haven't bought the matching inserts for it yet. Stop making excuses. You aren't going to minimize your clutter just yet. It's time to find a convenient and more sightly place for the DVDs you seldom watch. Allow these storage baskets to do their job in your home.
Price: Usually $29.99, now 42% off, $17.50
Roomfitters 3 Tier Rolling Utility Storage Cart
Why We Picked It: Whether you are ready to start organizing your bathroom, you finally feel adult enough to put together a bar cart or your make up just doesn't have a good place to be stored, a cart on wheels is an essential for any home.
Price: $89.99