Colleges to HS Students Fighting for Gun Reform: Keep Calm and Protest On
"Participation in peaceful protests will not affect your admission decision in any way.'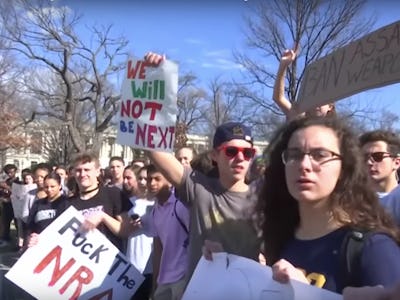 The Guardian
Led by survivors of the Marjorie Stoneman Douglas school shooting on February 14, high school students across the country have taken to the streets to demand action on gun reform laws — despite threats, in some cases, of suspension and other disciplinary action.
A Houston-area school district threatened students with a three-day suspension for participating in protests during school hours— even if they received parental permission to do so. "A school is a place to learn and grow educationally, emotionally and morally. A disruption of the school will not be tolerated," wrote Needville Independent School District's, Superintendent Curtis Rhodes on the high school's (now deleted) Facebook page.
Meanwhile, in Ben Gamla Preparatory Academy in Hollywood, Florida, school officials first allowed students to protest, but then locked the gates so that students could not leave the school property.
Disciplinary action is worrying for high school students with college applications and admissions on their mind, since a suspension on a high school record can be seen as a red flag during the competitive admissions process.
But this week, an increasing number of colleges have been publicly showing their support for students taking to the streets.
Here's how some colleges are showing their support for student protestors:
1. Massachusetts Institute of Technoloy
"We also believe that civic responsibility is, like most things at MIT, something you learn best by doing: indeed, to be civically responsible is to put into practice the obligation we owe to each other and to the common good. So: if any admitted students or applicants are disciplined by their high school for practicing responsible citizenship by engaging in peaceful, meaningful protest related to this (or any other) issue… it will not negatively impact their admissions outcome," said Stu Schmill, MIT's dean of admissions and financial services.
2. Tulane University
The New Orleans-based school's admissions blog wrote: "Here at Tulane, we understand that diversity of thought, and the ability to express it, is one of the most powerful tools a young mind can have. We believe that students should never lose their voice or passion. We will not penalize students for standing up for what they believe or for making opinions known through peaceful protests. We will continue to support the voice and speech of young adults as this is, ultimately, why we are here." -
3. Clark University
The university said in a tweet thread, "Working toward meaningful change on issues of consequence is central to who we are as a community, as expressed by our motto, "Challenge Convention. Change Our World." If you're considering Clark, we doubt you're waiting for our permission to stand up for your beliefs."
4. Smith College
The all women's college in Massachusetts said in a statement, "Peaceful protest is something that our students do before they arrive at Smith, it's something that they do while they're at Smith, and it's something that they do after Smith."
5. DePaul University
"Dear Students: If you participate in protests against gun violence and incur school discipline for walking out, you can rest assured you can report it to DePaul and we won't hold it against you. #ParklandStudentsSpeak," tweeted Jon Boeckenstedt, the Associate Vice President for Enrollment Management at Chicago's DePaul University.
Other colleges that have spoken out include California Institute of Technology, Trinity College in Connecticut, the University of Massachusetts at Amherst and Worcester Polytechnic Institute, among others.