The Supreme Court Just Legalized Same-Sex Marriage Nationwide, and Twitter Is a Victory Party
Hugging and high-fiving in 140 characters.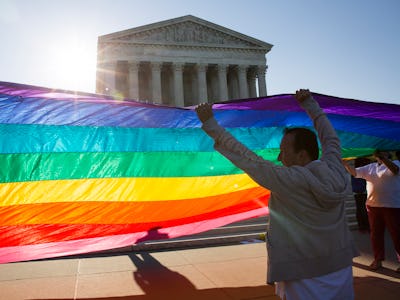 Getty Images
The Supreme Court has just ruled that states can't ban same-sex marriage, rendering unconstitutional the horseshit exclusions that tiny, nasty people had thrown up around the country. The alleged land of the free just took a huge step toward making good on that promise.
The Constitution says you and the person you love have a right to marry, no matter your genders. At least, that's what five of nine justices read, so for now, we're good.
It's going to be one hell of a banging summer for Pride; New York, Houston, Chicago, San Francisco, Seattle, and Minneapolis are all holding their Pride weeks right now. There is literally going to be weeping in the streets across America today, in the best of ways.
That party is already started on Twitter, and promises to continue. Get ready for a 2016 election that focuses more than usual on who will get to pick the next justices. There will be bitter, fiery times ahead. For now, though, revelry is ruling the day, with a hashtag #lovewins trending. There's a lot of heart coming through right now. I believe this is what the Internet calls "all the feels."