The Best True Crime Documentaries on Netflix in July, Ranked
They'll have you on the edge of your seat.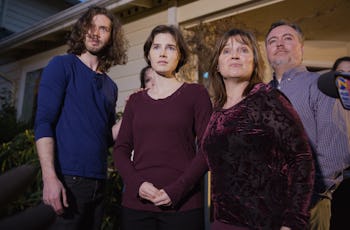 Getty Images / Stephen Brashear
Netflix adds and pulls moves and show from its lineup every month. With all the changes, it can be a bit overwhelming to parse through all the options. But if you're looking for true crime documentaries that will keep you on the edge of your seat, we've got you covered.
What makes stories in the true crime category so compelling is their rawness. They're complicated, and they aren't made up. In certain ways, true crime provides a more visceral experience than any scripted film. All at once the genre fulfills intellectual and voyeuristic curiosities. These qualities are what helped reel in over 19 million viewers in the United States who watched Making a Murderer in its first 35 days on the service.
Capitalizing on their success, Netflix is now home to many true crime documentaries. Who has time to watch them all? In the spirit of making viewing life a little easier, here are seven solid true crime documentaries that are available to watch on Netflix:
8. The Keepers
Not a movie, but a series, The Keepers is the newest addition to Netflix's true crime offerings. It spans seven episodes and focuses on the unsolved 1969 murder of a Baltimore nun, Sister Cathy Cesnik. She was a drama teacher at Archbishop Keough High School when she went missing, her brutalized body found two months later in a field. The documentary series — set to follow in the footsteps of the hugely successful Making a Murderer — dives deep into what many have called the cover-up of Sister Cathy's murder, probing into the some of the darkest corners to be found in the confines of the Catholic Church.
7. The Thin Blue Line
It could be considered the granddaddy of the true crime genre and remains today among the most well-known movies of its kind. Directed by Errol Morris and released in 1988, The Thin Blue Line recounts the story of Randall Dale Adams, who was falsely convicted by Dallas police of being a cop killer. Morris's exploration led him to discover the real killer and expose rampant corruption and abuse of power within the police force. It also saw Adams set free to resume his life as an innocent man. It's an unequivocal must-see for anyone interested in true crime, documentaries, the justice system, or skilled filmmaking in general.
6. The Hunting Ground
It's not quite a true crime documentary in the traditional sense, but The Hunting Ground is certainly worth watching all the same. Instead of zeroing in on one specific crime, the movie explores the alarmingly widespread nature of sexual assault on college campuses. One would be hard-pressed to find more relevant subject matter than this. Despite its broader scope, The Hunting Ground retains the tension and urgency that is more characteristic of pure true crime. That, and the sheer importance of the topic on which it focuses, makes it a great candidate for your Netflix queue.
5. Little Hope Was Arson
Arsonists destroyed ten churches in East Texas in 2010. The community was shaken. Federal investigators were brought in. These fires had devastating effects on the communities these churches served, so much so that residents expressed readiness to take the law into their own hands. Little Hope Was Arson presents an unforgettable look at faith, forgiveness, and transgression. As one citizen says in the film, "God will forgive the boys. We won't. But He will."
4. Into the Abyss
From esteemed filmmaker Werner Herzog, Into the Abyss is about the death penalty. Centered on a Texas triple homicide, Herzog's provocative documentary examines the prelude to and repercussions of a crime. They ripple farther out than most would dare to imagine. From communities that face cyclical incarceration to the emotional toll of carrying out death sentences as an agent of the state, the stories Herzog tells with this film will challenge your assumptions and leave you conflicted about what justice really means.
3. Team Foxcatcher
You may have seen Foxcatcher, the movie that earned Steve Carell an Academy Award nomination for Best Actor in 2015. If you enjoyed it, or if you simply want to know more about the true story it was based on, Netflix original Team Foxcatcher has you covered. The story of John du Pont's obsession with wrestling brothers David and Mark Schultz began with his attempt to create an Olympic training facility, designed to help up-and-coming athletes compete for their country. It ended with du Pont's murder of David Schultz. Team Foxcatcher was made with the aid of David's wife, and provides a fact-filled foil to Hollywood's dramatized version of events.
2. Making a Murderer
Another series — it's the true crime documentary that enthralled the country after its release and sparked a Change.org petition with hundreds of thousands of signatures. Detailing the (alleged) crime, conviction, sentence, and release of Steven Avery, Making A Murderer ultimately raises more questions than it answers. Did he do it? Was he framed? Does it matter? The narrative woven into the episodes by filmmakers Moira Demos and Laura Ricciardi is best left unspoiled. Suffice it to say that many viewers still haven't decided what they believe.
1. Amanda Knox
In 2007, Amanda Knox was arrested in Italy for the murder of her roommate. So began a more than eight-year series of trials, convictions, and acquittals that finally ended in January 2016 with Knox free of all charges. Amanda Knox is a recounting of the events, combined with interviews of journalists, lawyers, friends, and Knox herself. It's an emotional portrayal of one of the most publicized crimes in recent memory, complicated even further by tensions between the Italian and American justice systems. It makes for both an epic legal drama and a frightening account of what could happen to anyone who finds themselves in the wrong place, at the wrong time.