The Internet Caught Ted Cruz Jerking Off to Porn on 9/11
Never forget that people can see what you like on Twitter, Ted.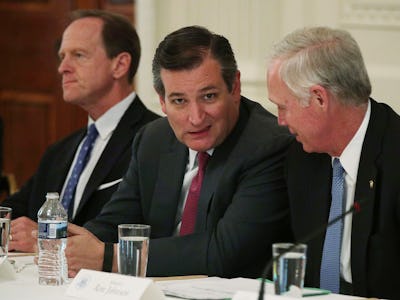 Getty Images / Alex Wong
The American people now know what Texas senator Ted Cruz watches while he masturbates. On Monday night, Cruz pressed "fave" on a porn video, and the world hasn't been the same since.
In the wake of Ted Cruz, or his "social media intern," favoriting a tweet from pornography account @SexuallPosts, which included a two-minute porn clip in which a woman touches herself while watching two people have sex on a white couch, a sexy yet precarious scenario from a stain-potential standpoint.
Below is the tweet in question. It is, obviously, not safe for work because it is the pornographic video that Ted Cruz jerked off to.
When screenshots of the tweet under Cruz's "likes" section of Twitter began to circulate, people were ecstatic, especially given Cruz's stated stance on masturbation. In 2016, Cruz caught fire for his legal team's defense in 2007 of a ban on sex toys in Texas. Cruz's team argued that "there is no substantive-due-process right to stimulate one's genitals," which his college roommate, screenwriter Craig Mazin, famously clapped back on.
And now, it appears that Mazin was telling the truth; Ted Cruz absolutely yanks it, and people online are taking that news as well as one possibly could.
Some users expressed a little sympathy for Cruz, while others drew parallels between the senator's personal life and his … film proclivities.
The account whose tweet Cruz favorited quickly embraced the publicity and made note of Cruz's patronage in its Twitter bio while sending the senator a little shoutout of its own.
Users anxiously awaited Cruz's response to the sudden exposure. A statement from his communication advisor came before his did, which probably doesn't happen to Cruz that often.
Cruz passing the buck and blaming the like on a "staffing issue" is unsurprising, and pretty emblematic of the way we treat pornography. There's nothing inherently wrong with watching porn, especially if you work to make your consumption ethical. But if you campaign against pornography as an active consumer, you're a hypocrite and don't deserve a happy ending to your internet porn snafu.
If you liked this article about porn scandals, check out this video about monogamy and boners (obviously).