Why Neo-Nazis are Using the Detroit Red Wings Logo, Explained
You really want to pick on a professional hockey team?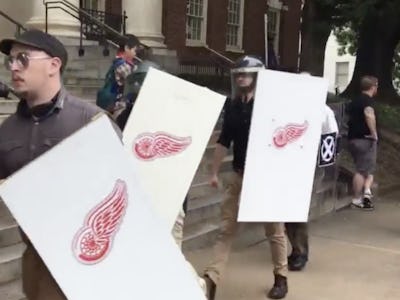 Craig Stanley
Protestors at a widespread neo-Nazi and far-right rally on Saturday decided the best form of branding for their cause was a modified version of the Detroit Red Wings logo, the long-running professional hockey team. Needless to say, the Red Wings, a professional hockey team with no ties to the legacy of Adolf Hitler, are not pleased with strange, racist nerds using their logo.
The Red Wings issued a formal statement on Saturday, vehemently disavowing any use of their logo an condemning the event, called "Unite the Right," which brought together several far-right, alt-right, and neo-Nazi groups in Charlottesville, Virginia.
"The Detroit Red Wings vehemently disagree with and are not associated with the event taking place today in Charlottesville, Va.," the team's representatives write. "The Red Wings believe that Hockey is for Everyone and we celebrate the great diversity of our fan base and our nation. We are exploring every possible legal action as it pertains to the misuse of our logo in this disturbing demonstration.
The logo is used by a group called the Detroit Right Wings, a white nationalist/neo-Nazi organization based in Detroit. The DRW sent a delegation to the Unite the Right protests, which arrived last night (we're not linking to the DRW's Twitter because they are Nazis).
NBC News producer Craig Stanley caught some of the first footage of the logo being used, as DRW members marched into the protest chanting "Blood and Soil," a racist slogan used widely by Adolf Hitler and the Nazi party during the reign of Nazi Germany and World War II.
In case there were still any doubts about the DRW being an explicitly Nazi organization, check out the logo.
The Red Wings original logo is a winged car wheel — a callback to Detroit's proud legacy as the auto manufacturing center of the post-World War II nation (which, coincidentally, also mobilized and re-tooled significantly to produce tanks, jeeps, and other vehicles for the Allied war effort against the Nazis). Here:
The "Right Wings" logo replaces the spokes in the car's wheel with jagged angled lines, which form a pattern of the lightning bolt symbol used by the SS:
President Donald Trump, addressed the protests in a single tweet on Saturday. "We ALL must be united & condemn all that hate stands for. There is no place for this kind of violence in America. Let's come together as one!" the president wrote. Unlike the Red Wings, a hockey team, he refrained from directly condemning the far-right rally or the presence of open neo-Nazis.