The CIA Paid Two Psychologists $81 Million to Develop Torture
The men are now the targets of a lawsuit by former detainees.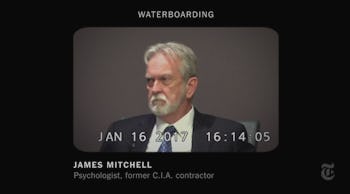 The New York Times
In the wake of 9/11, the Central Intelligence Agency paid a pair of military psychologists $81 million to develop and execute a slate of "enhanced interrogation" techniques that would be used on suspected terrorists for years to come. Although the program has by now been brought into the light, the story of these two men has remained largely out of sight until now.
Drs. John Bruce Jessen and James Mitchell have been called the architects of the interrogation tactics — today decried as torture and banned — that were used, in the name of national security, on detainees at places like Guantanamo Bay and other secret CIA facilities around the world.
Now, thanks to a powerful group of video depositions obtained by The New York Times from a lawsuit filed against the men by former detainees of those facilities, Jessen and Mitchell's role in shaping what we now know as the CIA's torture program has been brought further into the limelight.
Per The New York Times:
The outline for the techniques emerged in 2002 when C.I.A. officials asked [Jessen and Mitchell] to come up with proposals. The techniques were largely adapted from those the psychologists had used to train American soldiers in survival schools to resist brutal interrogations by hostile forces that were violating the laws of war.
In other words, the tactics that Jessen and Mitchell developed were ripped from those that they had previously trained American soldiers to endure at the hands of enemy soldiers during what is known as SERE (Survival, Evasion, Resistance, and Escape) training. And those techniques were ones that many at the time already thought violated the laws of war. The proposal included 12 methods, most notably waterboarding, sleep deprivation, stress positions, and sensory deprivation.
In their depositions, the two men maintain that they had doubts about what they were being asked to do but nevertheless confirmed that they had stayed on board. ""I had been in the military my whole life and — and I was committed to and used to doing what I was ordered to do," says Jessen at one point.
After the doctors' 2002 proposal was signed off on by the Justice Department they were then asked to train others to apply the techniques and even apply them themselves in interrogation scenarios. They did, even though they had no prior experience doing the latter. Dr. Mitchell would later advise the CIA to destroy any video evidence of his own techniques being applied.
At the end of it all, Jessen and Mitchell received an $81 million dollar payout for their work. It's that payout for the contractor work which may prove damning in the upcoming court date.
The suit is scheduled for trial on September 5. Read the full Times report and watch the video depositions here.