Rampant Clown Sightings Are Freaking People Out
Clown sightings are going nationwide.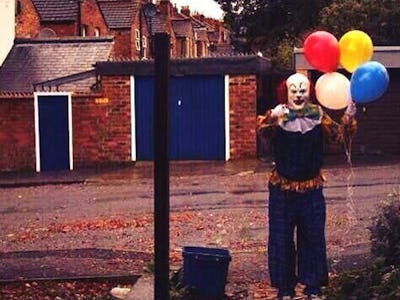 Clowns have been popping up in daily life this summer and spooking people across the country. In Long Island, New York this week, several clowns were spotted walking amongst civilians, causing a wave of terror throughout the suburban peninsula.
On Wednesday, a gang of clowns reportedly jumped in front of traffic in Brentwood. The sightings even prompted the local superintendents of both the Central Islip and North Babylon School Districts to call for a lockdown in their high schools. Although authorities across the nation have determined most of these clown sightings to be hoaxes, cases of clowns meandering in public continue to multiply.
Just like the anthrax scares, the needles in Pepsi cans in the 1990s, and UFO sightings, there is no such thing as an isolated clown hoax. Once one person reports a hoax, the claim is bound to have an copycat effect resulting in dozens of incidents across the country.
New Jersey, South Carolina, Pennsylvania, Alabama, and Florida are just a few of the other states to have witnessed the spate of clown sightings. Last Sunday evening in New Jersey, a child claimed he was chased by a trio of clowns in Phillipsburg. Back in late August, reports surfaced in Greenville Country, South Carolina, where children claimed that clowns were trying to lure them into the woods with handfuls of cash. One parent went to the woods to investigate and saw several clowns playing with green lasers.
A couple weeks ago, in the tiny town of Flomaton, Alabama, a woman posing as "Flomo Klown" and "Shoota Cllown" made various threats to local high school students on Facebook. The woman, whose real name is Makayla Smith, was eventually arrested and charged with making a terrorist threat. About 200 miles away in Beauregard, Alabama, a 16-year-old girl using the alias Kaleb Klown on Facebook threatened to blow up an elementary school. She was soon taken into custody and is currently being held in a juvenile detention center. In Florida, a woman was spooked when she saw two clowns staring at her while she walked her pit bull. In North Carolina, a man wielding a machete and dressed basically as the Joker but with red bushy hair tried to invite a woman into the woods. Security authorities at York College in Pennsylvania filed eight different reports of clown sightings around campus.
The reports are growing and getting weirder by the minute, and coincidentally are occurring while Andrés Muschietti wraps up filming the remake of Stephen Kings IT. Although the film isn't set to be released until September 2017, fans of Stranger Things should be excited as it stars Finn Wolfhard, who played the series' main character Mike Wheeler.
Despite being the silly and cheerful balloon-blowing characters at fairs and circuses, clowns have always maintained a dark place in history. In the 1892 opera Pagliacci, a clown brutally kills his wife on stage. In the 1970s, John Wayne Gacy, a clown who went by the name of Pogo, was imprisoned after being convicted of 33 counts of murder. While incarcerated, he frequently painted pictures of clowns. Horror films have always perpetuated a terrifying version of clowns — like It and Poltergeist, where the red-nosed characters turn into merciless, violent creatures.
Use your best judgment when coming into contact with a clown. Chances are they're probably just a prankster, but practicing extra caution during clown mania is your best bet.
Additional research by Tonya Riley.