Here's the First Object Ever 3D-Printed From Asteroid Metals
A glimpse of the large-scale mining operation that'll be in orbit soon.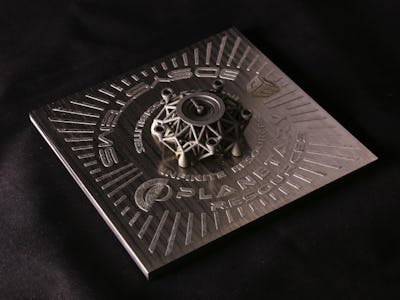 Planetary Resources
Creating a physical metaphor for its business model, the space prospectors at Planetary Resources unveiled the first ever object 3D-Printed using asteroid metals at this year's CES in Las Vegas.
The company unveiled a geometric spacecraft prototype it could soon be using to mine precious metals out of low-orbit asteroids on the Endgaget stage during the massive consumer electronics show. The model, showing the craft attached to an asteroid, was made from a real thing that was "pulverized, powdered, and processed" by 3D Systems ProX DMP 320 metals 3D Printer.
Behold, asteroid art:
The company had a legal path cleared for them in November when President Barack Obama signed a law stating businesses would have a recognized, legal claim to any material they pulled out of an asteroid, clearing the way for commercial space mining.
The prospect of making scarce materials like platinum plentiful, or tapping water as we travel across the galaxy, has already attracted high-profile investors like Richard Branson and James Cameron.
For this model, an asteroid sourced from Argentina provided iron, nickel, and cobalt.